Wall Street Rises To Nudge S&P 500 Above Record Close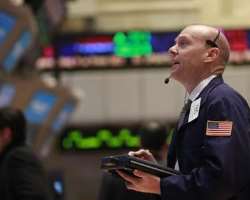 Stocks edged higher on Thursday as the S&P 500 rose just above its record closing high, a level that has acted as a significant resistance point in recent weeks.
The S&P 500 had been stuck in a fairly tight range, having traded within 10 points of the October 2007 record closing high of 1,565.15 over the previous 13 sessions before successfully piercing that level on Thursday morning, as buyers moved in on signs of weakness during that time frame to quickly erase any declines.

A close above the record level could signify more gains, although investors may tread lightly with government payroll data and earnings season on the horizon.
"We will still be very news dependent, as we always are, so I don't expect any big, material explosions to the upside, but we just continue to slowly move higher," said Darrell Cronk, regional chief investment officer for Wells Fargo Private Bank in New York.
"As you continue to set those new index highs, as you continue to see positive macro data, it will probably continue to bring people in off the sidelines."
The Dow Jones industrial average .DJI gained 34.33 points, or 0.24 percent, to 14,560.49. The Standard & Poor's 500 Index .SPX added 3.42 points, or 0.22 percent, to 1,566.27. The Nasdaq Composite Index .IXIC rose 3.80 points, or 0.12 percent, to 3,260.33.
U.S. stocks were set to close out a strong quarter with the S&P 500 up 9.8 percent for the first three months of 2013. The Dow was up 11.1 percent and the Nasdaq up 7.9 percent.
For the month of March, the S&P 500 is up 3.4 percent, the Dow is up 3.6 percent and the Nasdaq is up 3.2 percent.
Thursday is the U.S. stock markets' last trading day of the quarter because of the Good Friday holiday.
Data showed the number of Americans filing new claims for unemployment benefits rose more than expected last week, but probably not enough to suggest a faltering in the labor market's recovery. Other data showed the economy expanded more in the fourth quarter than was previously estimated by the government.
The Institute for Supply Management-Chicago business barometer showed the pace of business activity in the Midwest slowed in March as the new order rate tumbled.
In a positive sign, Cypriots lined up as banks reopened despite tight controls imposed on transactions. There was no sign of a run on deposits, as feared, after the government was forced to accept a stringent EU rescue package.
BlackBerry (BB.TO) (BBRY.O) reported an unexpected fourth-quarter profit on Thursday, driven by demand for its new touchscreen device, which holds the key to a successful turnaround for the smartphone maker. BlackBerry's U.S.-listed shares shot up 2.6 percent to $14.95.
Chesapeake Energy Corp's (CHK.N) search for a new chief executive to replace Aubrey McClendon is likely to extend beyond an April 1 deadline, according to a person familiar with the situation. The stock shed 0.7 percent to $20.38.
Influential proxy advisory firm ISS threw its weight behind opponents of MetroPCS Communications Inc's (PCS.N) proposed merger with T-Mobile USA, saying the deal undervalued the company and shareholders should vote against it. MetroPCS shares jumped 4.3 percent to $10.98.
JPMorgan Chase & Co (JPM.N) shares slipped 0.8 percent to $47.40 after a federal judge said on Wednesday the bank must face a lawsuit by a pension plan that accused it of mismanaging its money by investing in Lehman Brothers Holdings Inc notes before that bank filed for bankruptcy in 2008.
REUTERS