Oyo: Gunmen Attack Accord Party Chieftain, Kill Night Guard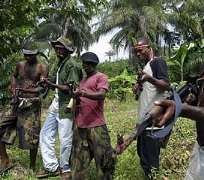 SAN FRANCISCO, March 27, (THEWILL) – It was a narrow escape for a chieftain of the Accord Party (AP) in Oyo State, Chief Ayodele Adigun, who is also a former Secretary to the State Government (SSG) in the administration of Senator Rashidi Ladoja, Tuesday night, as unknown gunmen scaled the wall of his Akobo GRA residence in Ibadan and rained bullets on the compound.
But while Adigun, who was away in Ekiti State to open his party's office, escaped the attack, that is generally believed to be an assassination plot on his life, his night security guard, simply identified as Pa Olapade, an ex-service man, was not that lucky as he was blindfolded, gagged and clubbed to death by the assailants during the night operation.
His remains had been deposited at the Adeoyo Maternity State Hospital Yemetu, Ibadan.
The day guard at the AP chieftain's house, Wasiu Adeniran, who discovered the remains of the night guard when he came to resume his duty shift was said to be visibly shaken.
He told journalists in Ibadan that he was surprised when he arrived the house at about 6.58am and knocked on the gate only to get no response for almost 30 minutes.
"My day shift is normally between 7.00am and 7.00pm. So when I came and knocked hard there was no answer. There was no sign of his footsteps, or radio set, which he normally left on. I stayed for about 30 minutes outside, when Usman, a neigbour's security guard next to us advised I should knock again because it was unusual of Baba not to come out by that time. It was then I used my hands to pry open the gate from behind.
"As I entered, it was Baba's dead body that I saw lying at his post near the entrance. He was tied. I quickly raised the alarm and called Oga's secretary and his Special Assistant," Adeniran said.
Adeniran disclosed that the assailants apparently gained assess to the house by scaling the fence from the back. Conducting newsmen round the premises, he showed the ladder the hoodlums may have used to climb the fence and make good their escape. He also showed the blood-stained spot where he discovered his dead colleague.
Speaking from Ekiti State, however, Adigun said he got a telephone call, Wednesday morning, informing him of the incident. He explained that he believed he was the obvious target, as nothing was stolen from the house, suspecting that it might have political undertone.
"The main building was not even broken into. I don't have deals. I owe no one and no one owed me any money. I hardly have enemies, but, I know I criticise government a lot. This is a dangerous trend, that we are having this kind of thing again in this state. Apparently they were after me, because we learnt they came about 9.00pm and 10.00pm, when they calculated I would have dispersed my visitors and would be relaxing. They calculated the time," he said, stressing that henceforth he would seek police protection.
The incident has been reported at the Akobo Police Station.
The Divisional Police Officer, (DPO) at the Akobo Police Station, where the case was reported could not be reached for comments but a police officer confirmed that the case was reported at the station and that investigation has commenced.
He however referred further enquiries on the matter to the state Police Public Relation Officer at the state Police Command, Eleyele.