AKPABIO AND MEDIA UNDERTAKERS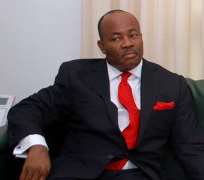 The last two weeks have witnessed a frenzy of media attacks on the Governor of Akwa Ibom State, His Excellency Chief Godswill Obot Akpabio. Unfortunately, these media assaults are coming from established media houses which have curiously lent themselves to the pursuit of pedestrian matters that can hardly serve as complement in the building of a prosperous nation. Indeed, they have surrendered to inanities thus compromising the complementary role of the Fourth Estate of the Realm in nation building.
The first conspicuous salvo was fired by Ikechukwu Amaechi in an article entitled "Godswill Akpabio Freebies". The article made a scathing condemnation of Governor Akpabio's generosity citing the donation of a Toyota SUV Prado to Annie Macaulay, an Akwa Ibom born entertainment diva who wedded Tuface Idibia a fortnight ago. The couple had honoured the governor of Akwa Ibom State by paying him a courtesy visit where they invited him to kindly grace their traditional wedding ceremony. And the governor in line with his simplicity, humility and egalitarian orientation reciprocated by attending the wedding.
Giving gifts at wedding is a universal constant. It is a tradition that is appreciated the world over. As customary with known value system, Governor Godswill Akpabio donated one unit of Toyota SUV Prado to the couple. The couple had announced that their white wedding would be held in Dubai. The governor then pledged to pay air fares for twenty members of Annie Macaulay's family at a cost amounting to N3 million naira only.
A gift of a Toyota SUV Prado and an expenditure of what can rationally be described as a paltry N3 million naira are certainly not profligate spending if the status of the giver and the wedded are taken into context in this specific case. The gift of cars by fathers to daughters or sons during such epochal moments replete our culture. The question that arises from here is if Godswill Akpabio had donated a Toyota SUV Prado and bankrolled a wedding at the cost of N3 million for his daughter, would it have drawn such scathing media attack including editorial from a supposedly reputable newspaper? Is it because he is doing it for another person's daughter whom by virtue of the office he occupies as governor of Akwa Ibom State is his daughter? Is it wrong for one to liberate oneself from the pettiness of discrimination? Is it not curious that rather than celebrate a leader who is extending love and compassion to others, we are vilifying him?
The editorial of Punch newspaper of March 22, 2013 cast a moral slur on the integrity of that once reputable medium. In a treatise entitled "Checking Akpabio's fiscal recklessness", it reeled out a catalogue of what it ignorantly described as 'misplaced, bigoted, insensitive and illegal way of handling public finance …" citing some of the donations by Governor Akpabio as examples. The language of the editorial was cast in a way to disparage the person of the Governor. The contents were fallacious betraying the suspicion of sponsorship or brazen display of hatred. The editorial appeared to have fixations and would not allow even clarifications by Akwa Ibom State commissioner for Information to interfere with such fixations or conclusions.
It is my considered belief that if Punch newspaper's editorial was done in good faith, it would have sought clarifications on some of the alleged profligate spending in a way that would have allowed for a well informed editorial. But it rushed to satisfy either the frenzy of hate or the caprice of a pay master. For instance, one unit of Toyota SUV Prado was given but Punch editorial insists they were two, the purported cash gift of N3 million to the couple did not take place but Punch misinformed the public. They would have verified to know what the sponsorship of 20 family members would translate to in fiscal value but Punch exaggerated it to cast the Governor as a spendthrift.
Again, if Punch editorial was guided by altruistic concerns, it would have bothered to know the circumstance that led to Governor Akpabio doling out N6 million during the PDP reconciliation meeting in South-South which was held in Port Harcourt. Stakeholders had waited at the venue from about 9am till late in the afternoon. And when they complained of hunger, the governor empathized and decided that they go and have snacks with the sum of one million per state. The south-south zone has six states and each State had at least 460 people. If one divides N1 million against the number of persons, it would amount to less than N2000. Is that too much for a governor to give to faithful members of his party who were genuinely hungry?
Governor Akpabio has also been accused of donating N230 million to St. Stephen's Anglican Church, Otuoke, the President's village. He did the donation on behalf of 23 PDP governors which he is the Chairman. In that same event, a private individual donated N1.8billion. How much would anybody have expected 23 governors to donate? It is an act of hypocrisy on the part of Punch newspaper to criticize that gesture, because one can not recall any editorial they wrote when Chief Olusegun Obasanjo as a President received donation in excess of N6 billion for a presidential library. Why is Punch griping today? Is it because the donation is for a Church or the President is from a minority tribe? We must learn to encourage a system of level playing field that gives equal opportunity to all.
Just recently, Punch proceeded with its indiscretion by culling a report from the social media in a further bigoted attempt to disparage Governor Akpabio. It is a well known fact that since online publications do not have editors to perform the traditional gate-keeping role that is customary with conventional media organizations, culling reports from them must be done with utmost discretion. But Punch in pursuit of its base agenda has jettisoned this tradition. For Punch, so long as Governor Akpabio is cast in despicable light, no other thing matters. This is indeed unfortunate.
It is important to bring to the notice of the public the constitutional authority established through a budgetary provision which provides votes for governors for donations, hospitality and grants. Governor Akpabio's benevolence is within the ambits of the law. The State House of Assembly has made appropriation for him for such expenditure in section 467/169. It is therefore a manifest display of ignorance for established media houses which should know better to join in condemning a man who is exercising his constitutional authority. The interesting irony in all of this is that Governor Akpabio could access this money that has been appropriated and spend it for himself and family only. But his stupendous sense of generosity impels him to extend it to others who are in need. Governor Akpabio is a classic example of the philosophy which notes that you can give without loving but you can not love without giving. Let the press rather educate our other leaders to learn this sterling value of generosity from him.
Written By Joe Iniodu

Disclaimer:

"The views/contents expressed in this article are the sole responsibility of

thewillnigeria.com

and do not necessarily reflect those of The Nigerian Voice. The Nigerian Voice will not be responsible or liable for any inaccurate or incorrect statements contained in this article."
Articles by thewillnigeria.com