Students Shut Down National Assembly Over Nwoye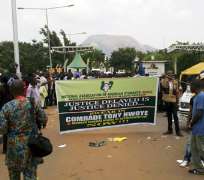 ABUJA, March 26, (THEWILL) – There was a temporary breakdown of law and order at the National Assembly, Tuesday, as the National Association of Nigerian Students (NANS) took over the main entrance to the parliamentary complex and prevented staff, lawmakers and visitors from either entering or going out of the building.
The students were protesting the alleged refusal of the House of Representatives leadership to swear in their one time president, Comrade Tony Nwoye, whom they claimed won the Anambra East/West Federal constituency election in April 2011.
As early as 8am, the students who organised themselves in large numbers stormed the National Assembly complex, overpowered the security and took control of the first and second gates. Although they were stopped at the second gate, they ensured that those coming into the complex did not enter just as they prevented those inside from going out.
At the gates, they sang their "aluta continua" songs, displaying placards bearing various inscriptions urging the speaker to swear in Tony Nwoye or never to experience peace.
They were at the gate until after the plenary, which ended at about 2pm when Tambuwal sent the National Assembly security to usher in leaders of the group for a reconciliation meeting. The students were led into the House by the Deputy leader, Hon. Leo Ogor.
At the meeting with the Speaker and some principal officers, the NANS national president, Yinka Gbadebo, said it was unfair for the leadership not to swear in Nwoye after he had been declared winner by competent court of jurisdiction and with an acknowledgement of INEC by the certificate of return awarded to him.
He urged the speaker to immediately swear in Nwoye in the spirit of fair-play, equity and justice.
But in his response, Tambuwal told the student that the leadership of the House was taking its time to follow due process in order to ensure that both sides: Tony Nwonye and Ameke Chriscato, do not suffer injustice.
"We are attending to both sides dispassionately and by the Grace of God we will be guided to ensure that right thing is done. Though we will spend much time, it is better we are cautious so that we don't derail, but do justice to the matter."
The speaker commended the students for organising themselves in a peaceful manner and for setting out to defend injustice, urging them to do same to other Nigerians who suffer persecution.
It will be recalled that the Anambra East/West Federal Constituency seat has been subject of controversy since the court declared Hon. Tony Nwoye. The seat is presently occupied by Hon. Chriscato Ameke.