Wall Street Gains On Data As S&P 500 Nears Record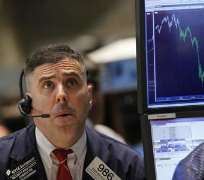 Stocks rose on Tuesday after data on home prices and manufacturing showed the economy continues to improve slowly, with the S&P 500 index closing in on its all-time high.
Single-family home prices rose in January at the fastest pace in more than six years and demand for long-lasting U.S. manufactured goods surged in February. However, sales of new single-family homes fell more than expected in February.
The latest data supports equities' rise, but investors find it hard to push the market higher with the S&P trading so near its all-time closing high.
"We need to see continued improvement in economic data" in order to successfully hold the year's gains, said Michael Sheldon, chief market strategist at RDM Financial in Westport, Connecticut.
The euro was little changed against the U.S. dollar and remained near four-month lows on lingering concerns about the negative implications of a rescue plan for Cyprus. Markets worry it will serve as a template for other euro zone economies requiring bailouts.
"There's uncertainty in Europe ... what is the blueprint when (economies) need to be rescued," Sheldon said.
"The market trend continues to be higher but investors are gun-shy in light of recent gains."
Banks in Cyprus will remain closed until Thursday and will then be subject to capital controls to prevent a run on deposits. President Nicos Anastasiades said late on Monday that a 10 billion euro ($13 billion) rescue plan agreed at the weekend was "painful" but essential to avoid economic meltdown.
The Dow Jones industrial average .DJI rose 96.75 points or 0.67 percent, to 14,544.5, the S&P 500 .SPX gained 8.51 points or 0.55 percent, to 1,560.2 and the Nasdaq Composite .IXIC added 12.31 points or 0.38 percent, to 3,247.61.
The benchmark S&P 500 index traded on Monday just a quarter point below its all-time closing high, then retreated as investors cashed in gains in the wake of news out of Europe. Its record close stands at 1,565.15, set October 9, 2007.
Monsanto (MON.N) and DuPont (DD.N) have settled a legal battle over rights to technology for genetically modified seeds and will drop antitrust and patent lawsuits against each other in U.S. federal court. Monsanto shares rose 3.2 percent to $102.61 and DuPont shed 0.7 percent to $48.77.
Shares of Supervalu Inc (SVU.N) rose 2 percent to $5.15 after it said it will cut about 1,100 jobs across the United States as it tries to revamp its business after selling some of its supermarket chains.
Michael Dell's $24.4 billion buyout bid for Dell Inc (DELL.O) could be derailed after billionaire Carl Icahn opened the door to an alliance with Blackstone Group LP (BX.N) to take control of the computer maker from its founder. Dell shares rose 0.2 percent to $14.54.
REUTERS