Berlusconi Offer Fails To End Italy's Political Stalemate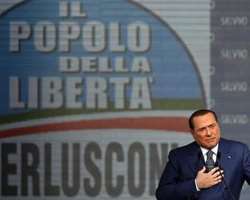 ITALY'S FORMER PRIME MINISTER SILVIO BERLUSCONI
Silvio Berlusconi repeated a demand on Monday to be included in any new Italian government, but there was no sign his center-left rival would renege on a promise not to ally with the tycoon as a way out of political stalemate.
Pier Luigi Bersani - asked by the president to try to form a coalition after a February election that gave him a majority in the lower house but not in the Senate - has ruled out an alliance with the media baron's People of Freedom (PDL).
But Bersani's Democratic Party (PD) has few other options, leaving the euro zone's third biggest economy in a political limbo that is a danger for the whole currency bloc, badly shaken by near melt-down in Cyprus.
Berlusconi said the PD should allow his party to choose a successor to 87-year-old President Giorgio Napolitano, a left-winger whose term ends on May 15 - another aspect of Berlusconi's offer which is unappealing to Bersani.
"The line is clear, either the PD changes its ideas and makes itself available for a government with the PDL to get the economy moving again and declares it is prepared to elect a moderate to the presidency or we go back and vote," Berlusconi said in an interview with his own Canale 5 television.
Bersani's overtures to the third biggest group in parliament - the populist 5-Star - have been rejected. The movement led by ex-comic Beppe Grillo says it will have nothing to do with Italy's mainstream parties, all of which it views as corrupt.
Despite that, the PD said Berlusconi's offer remained unappealing.
"Our experience is a negative one for a very simple reason. What we've seen unfortunately is that, in the end, Berlusconi thinks only of his own interests," PD deputy leader Enrico Letta told SkyTG24 television.
"Honestly, the idea that in a day after the election you can cancel out everything which has gone on in these past 20 years, we all know it's just propaganda," he said.
MIRACLES
If he cannot form a coalition, Napolitano may ask a respected figure from outside the main party system to try to form a broad-based government. The other alternative is a return to the polls.
Bersani expressed the urgency of Italy's dilemma.
"The situation is dramatic. We need a government. In fact we need a government capable of performing miracles," he told reporters at parliament where he was meeting union leaders, seeking support for modest economic reforms.
European partners and international investors are watching the stalemate closely although so far there has been no sign of the panic that gripped markets in 2011 when Berlusconi resigned as prime minister amid a debt crisis.
On Monday, the main indicator of investor confidence, the difference between yields on 10 year Italian government bonds and their more trusted German counterparts, narrowed after the EU reached a deal over the banking crisis in Cyprus.
An auction of two-year zero-coupon bonds saw the cost of borrowing rise slightly but the Treasury sold almost all of its maximum target of 4 billion euros.
However, broader problems remain in an Italy stuck in recession, with unemployment - especially among the young - at record levels, and a 2-trillion-euro public debt vulnerable to a change of mood on the bond markets.
"We need a government to show some signs of change given the emergency that we face and to start turning the trend around," said Susanna Camusso, head of the CGIL union after meeting Bersani.
REUTERS