Acting President Jonathan Fires Aondoakaa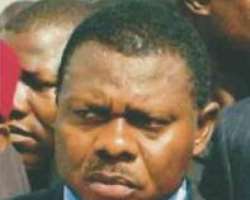 New information gathered by our correspondent indicate that the Acting President of the Nation has taken the bull by horns only 24 hours following his swearing-in as the Acting President.
The Acting President of Nigeria who was sworn into office yesterday made a bold move today as he fired the long troubled Attorney General of the Nation in the person of Mike Aondoakaa. This is according to credible but unconfirmed source. Mike Aondoakaa was said to be hardest on the take against the emergence of Goodluck Jonathan as the Acting President of Nigeria.
As learnt, Mike Aondoakaa had been working in cohorts with the former governor of Delta State in the person of James Ibori to subvert the process of appointing an approipriate head of armed forces to hold the seat until the return of Umaru Yar'Adua from sick leave.
Ukpakareports.com has learnt through informed sources of the extent the duo worked to halt the emergence of Ag. President Jonathan. As learnt, the Governor of Bayelsa, Timipre Sylva had given James Ibori a warping sum of N1billion to pass along to the members of the house of representatives to help tackle down the emergence of Goodluck Jonathan. Gov. Timipre Sylva and Goodluck Jonathan have not been in good terms. Both gentlemen come from the same State, Bayelsa.
Also, information has it that Ag. President has also dissolved the Federal Executive Council. This credible information has also not been confirmed.
Michael Kaase Aondoakaa was born June 12, 1962 in Benue. He attended the University of Maiduguri, where he studied law. He became a senior partner of a law firm for 18 years. He was appointed Minister of Justice on 26 July 2007. He was a member of a sub-committee to review the report of Justice Mohammed Uwais committee on electoral reform. The sub-committee assisted in producing a controversial white paper which muzzled the reforms and blunted the edge of the Uwais Report. A hachet man that does all the dirty job of the Yar'Adua's shadowy kitchen cabinet.
Aondoakaa last battle was against Professor Dora Akunyili, the minister for Information. He lampooned Akunyili for having the gut to write a memo quetioning the integrity of the cabinet for keeping mum over Yar'Adua's sickness.
Mike Aondoakaa troubles appears to just be on a set off. Today, the Minister for Information, Prof. Dora Akunyili had asked the deposed attorney general to recant the nebelious publications against her. This, she statement that if the Mike Aondoakaa refuses that she will take him to court. Mike Aondoakaa is yet to response.
As more details become available, we will publish them