Maduekwe, Babalola Locked Out Of Meeting With VP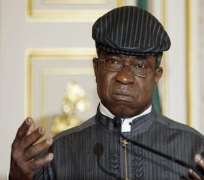 San Francisco Feb 08, (THEWILL) – The Vice President's zero tolerance for lateness and indiscipline continued on Monday when Foreign Affairs Minister, Ojo Maduekwe and Power Minister, Lanre babalola were both locked out of a meeting with the Vice President and some potential foreign investors.
The Ministers arrived a couple of minutes late for a meeting which was holding at the Vice President Jonathan's conference room.
Protocol permits that once the President or Vice President enters a function, all doors are shut.
Maduekwe and Babalola were heard explaining to the Vice President's security detail who had prevented them from entering the venue of the meeting. It took the intervention of the Vice President's CSO before the men were allowed into the meeting.
Both men said they were notified of the meeting a few minutes earlier.