Nigeria Prison Challenges reflect Ethnic-Religious and Environmental Anxieties, and not the Control General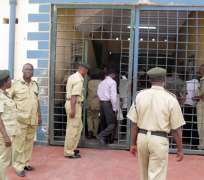 At the time of this writing, at least 52, 000, offenders and inmates are locked up in different prisons across the country with more than half, awaiting trials for various offences.
The Nigerian population is estimated to at least 160, 000, with continued explosive rates. The health care, sanitation, and general living conditions in the country remain poor, with the prisons more in drastic conditions in these areas.
The country remains troubled by sporadic outbreaks of cholera, malaria, and other sickness which are even worse in prisons and complicated by riots and prison outbreaks.
The country has more than 250 ethnic groups, with varying languages and customs, creating a country of intense ethnic relationship, with the people almost divided equally between Islam and Christianity between north and south.
Actually, in terms of religious practices there are more Muslims than Christians in the nation. The prison system which is secular in nature is almost seen as unholy in the North especially by the religious extremists, given its British legal image and standing.
This perception has in recent times resulted in brutal actions from Islamic insurgents as evidenced in the burning of prison buildings, killing of officers and freeing of prisoners. These insurgents whom America have refused to declare as Terrorists for prevailing social, cultural and economic reasons where the North is seen as a victim of the larger society; remain strong in their assaultive acts.
They use powerful assault weapons and explosive-laden cars and devises to attack their targets and they continue to do these things in a society with poorly unregulated access to weapons.
On a human side, questions need to be asked? Could officers at least some of them , be silently driven by religious indoctrinations, ethnic loyalty, personal gains and communal ills, making current trends of problems bound to get worse at various prisons?
No one can deny the unusual importance and the strange relevance of obvious ethnic and subtle religious markers and their effects on stability of the law enforcement and national security.
It is a naked fact that in recent years the Nigeria prisons and other security agencies now have so much money expended to it for security operation than before, yet problems continue to swell.
The deep roots of ethnicity and the subtle effects of religion appear to be closely linked to intelligence gathering and dissemination both within the prisons and the community at large.
In this regard, some in the prison service may not be able to establish and maintain a credible intelligence as their loyalty first goes to persons/organizations of ethnic affiliation or religious composition and not to the presidency, the prison management or national security partners.
So, no matter how effective or ineffective is the prison chief as long as the weight of intense institution and the load of environmental stress remain heavy on an average warden or officer the intelligence operation that is critical to handle criminal or security challenges is likely to be contaminated.
The prison and other security agencies remain erected along religious and ethnically based governmental positions which could make loyalty to the Constitution or to the nation problematic.
Ethnic politics in the prisons, homage along tribal lines and the uneven distribution of rewards or positions further contribute to the present-day prison dilemma in terms of having neutrally-minded personnel to adequately combat brutality, violence, and other criminality.
The existing and current ethnic and religious map of Nigeria which is no fault of any prison chief is reflected in the internal corners of domestic quarters of the people.
In a society where thousands of employees of the Nigerian Prison are not psychologically screened for personality and emotional domains their religious beliefs in terms of underlying motives make one wonder who is really guarding the prisons. Meanwhile, if the entire air of national security continues to be contaminated and compressed due to ethno-religious toxicity and helplessness, we must find other radical ways for the people to have confidence in the security in regards to their properties and lives.
May be we should allow those States with Sharia laws, to have independent prisons that are far away from the workings of the historical penal system that is still operating largely under the British-left over penal code of 1963.
In the North, we view the Muslims as naturally functioning outside Nigerian-laced secular correctional system so to have the religious extremists in these types of settings is laughable and dangerous.
In the country, Sharia has been established as a main body of civil and criminal law in many Muslim-majority States which is already affecting the functioning of levels of government. As such, Sharia law is deeply part of state-run legal system, therefore what make the prisons different?
As long as we continue to use a secular type prison system for the whole country, the North in particular, trouble will continue to mount in places like Kano, Bauchi, Borno, Kaduna, Gombe and others.
In the South, where the penal system is fully congruent with the peoples English, Christian and legal beliefs, prison problems there are more reflective of reported dehumanizing health , sanitation, and general living related conditions.
The Even if the National Assembly succeed in updating the Nigerian Prison Service in terms of its 1963 Prisons Act, the people must do something now, in regards to psychology of issues raised in this writing, and not allow the nation to further fall into the ditch of total breakdown of law and order.
John Egbeazien Oshodi, Ph.D, [email protected]
Disclaimer:

"The views/contents expressed in this article are the sole responsibility of

John Egbeazien Oshodi, Ph.D.

and do not necessarily reflect those of The Nigerian Voice. The Nigerian Voice will not be responsible or liable for any inaccurate or incorrect statements contained in this article."
Articles by John Egbeazien Oshodi, Ph.D.