Anambra's "Verdict 2010" As Lesson And Revenge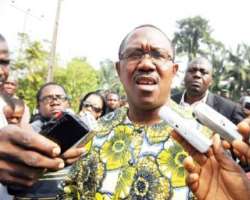 PHOTO: MR. PETER OBI IN A CHAT WITH JOURNALISTS ON ELECTION IN ANAMBRA. Image: AFP.
Last Saturday, voters in Anambra State came out in impressive numbers to elect a governor. The stakes were extremely high, and the obstacles formidable, but the people of Anambra did themselves great credit. After it was all over, incumbent Governor Peter Obi made history as the first two-term occupant of the Government House. And Anambra put itself forward, in my view, as a pivot for the democratic renewal that Nigeria so sorely needs.
It was a fitting and welcome transformation – a kind of revenge, in fact.
Anambra has been a victim of some of the most tragic and traumatizing schemes in Nigeria's political history. It's been a turf for the depraved antics of so-called political godfathers who exploited their connections to the seat of power in Abuja to make the state virtually ungovernable. It's been run, and ruined, by the human disaster called Chinwoke Mbadinuju. This man, a genius at quoting scripture but less than adept at living it, holds the unflattering distinction of presiding over a year in which the state's children didn't go to school – because their striking teachers were not paid.
There was more: the brazen kidnap of former Governor Chris Ngige, a man smuggled into office by the ruling party and then hounded when he refused to surrender the treasury to his sponsors; the three-day spree of arson against public property carried out by thugs who may have been empowered by the highest authority; and the short-lived imposition of Andy Uba as governor.
With this history as background, and Nigeria's current climate of uncertainty, so much rode on the Anambra election. Local and international pundits, deeply troubled by Nigeria's penchant for fraudulent elections, tagged Anambra's Verdict 2010 a veritable window into the shape of general elections to come in 2011. At a December 11, 2009 colloquium convened at Brown University by Professor Chinua Achebe, speaker after speaker was at pains to underscore the point that, as Anambra went last Saturday, so would Nigeria go next year. These speakers, Nigerians and foreigners alike, also warned that the country could ill afford the manipulation of the Anambra election, and may not survive another of the kind of electoral farce we got in 2007.
Bearing this onerous burden, Anambra made Nigerians proud. Anambra, the erstwhile headquarters of anarchy, has become a beacon of democratic hope for all Nigerians.
Last week's election was, I stress, a truly Nigerian affair. By the same token, it was a triumph for all Nigerians, not just the residents of Anambra. I had never seen a state election that generated as much interest across the spectrum of Nigerians as that of Anambra. It was clear that Nigerians, and in some ways the world, paid attention to the election. It called up the best – the deeply patriotic – in many.
Let me illustrate. I signed up to participate in a project called Anambra Election iReporters. Initiated by Okwy Okeke, an energetic and passionate patriot, the project entailed monitoring the progress of last week's election by phoning observers right there in the field – and then posting our findings on numerous websites. Mr. Okeke, who holds an MBA and works for a large American corporation, saw the project as one way that we could invest in the cause of credible elections.
Several of us, including Okeke, are from Anambra, but volunteers came from other parts of Nigeria. I rose at the crack of dawn on Saturday and immediately began to make calls to our contacts in Anambra – some of them lawyers sent by the Nigerian Bar Association to observe. What struck me was the number of participants in the exercise, in Anambra as well as abroad, who are not from Anambra. If you ever wondered whether pan-Nigerian collaboration was still viable, perish your doubt. From my small corner, I beheld the cooperative spirit that's alive among Nigerians when the challenge is to reclaim their badly battered lives and commence the task of mending.
Given Nigeria's long habituation to scams dressed in the garb of elections, it's understandable if some are in a hurry to declare the days of rigged elections over. Nothing is farther from the reality. At any rate, to mistake what happened in Anambra as spelling the demise of electoral hanky panky is to both underestimate how impermeable our politicians can be and to risk slipping into complacency.
Complacency is a virus that Nigerians can't afford now. Vigilance and a state of heightened alert, not a slackening off, are called for. This is a time to consolidate the gains from the Anambra election – and to think about how to vastly improve on them in 2011 and beyond.
We'd do well to remember that as many things went well in the Anambra election as went wrong. Two or three persons called or wrote to me waxing ecstatic about the electoral commission's conduction. One trumpeted Maurice Iwu, the commission's chairman, as a born-again champion of credible polls.
Not so fast, I retorted. What transpired in Anambra should not really be regarded as epitomizing superior performance by INEC. Nor should Nigerians hasten to canonize Iwu for overseeing an election in which the voice of the voters was permitted to prevail. Transparently free and fair elections are the right of Nigerians, not a privilege that Iwu may – according to his mood or whims – dole out to us or withhold.
There were indeed heroes in last week's elections, but Iwu doesn't make my list of them. In the 21st century, his electoral body failed to produce serialized ballots. Then its voter registers were, for the most part, an anthology of missing names.
The foremost heroes were the voters who, undeterred by past experiences of stolen mandates, came out in droves to vote. The images of determined voters, many of them waiting for hours in the sweltering heat before voting materials were produced, reflected a widening quest by Nigerians to reclaim their country from the calloused hands of its destroyers.
Then there were the troop of monitors, their eyes set on the proceedings, determined to keep everybody – police officers, polling officials, party partisans – honest. And then there were the officials who must have decided not to lend themselves as instruments for would-be riggers.
Some of the governorship candidates ran vibrant campaigns that managed to touch on such urgent matters as security, educational collapse, and festering joblessness. Those of them who agreed to take part and spar in a televised debate also deserve commendation for taking Nigerian politics in a salutary direction.
As we celebrate, we must also take stock of the areas where we failed. I'm a Catholic, but I abhor the insinuation of religious sentiments into partisan politics. I was thoroughly ashamed to hear that some priests abused their vocation by campaigning from their pulpits for Governor Obi. Clergy, like other citizens, reserve the right to have political favorites. But it's nothing short of scandalous and dangerous to mount political campaigns from inside the sanctuary.
I hope that Mr. Obi did not himself go out to seek endorsement as the Catholic candidate. If he in any way orchestrated this facile notion that he was his church's choice, then he has done grave disservice to the voters – who are from across an array of faiths. Sectarian adventurism has no place in a political contest, much less in a country like Nigeria with a terrible history of religious fanaticism. The church's meddling in politics must be discountenanced both by candidates and clergy.
|
Article source