Minister Laments Rot At UniAbuja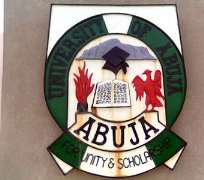 ABUJA, March 22, (THEWILL) – Minister of Education, Prof Ruquyyat Rufai, Thursday, described the University of Abuja as a shame to the nation and embarassment to the education sector.
Lamenting the rot at the university, the minister said the school was just the opposite of what it was supposed to be.
"University of Abuja is supposed to be a pride to all of us but unfortunately, it is a shame! The university, since inception, has been plaqued with so much problems.
"There are two scenarios to the problem we are facing in University of Abuja. One is the issue of programmes operated illegally for many years in the Faculty of Medicine, Faculty of Veterinary Medicine, Faculty of Agriculture and that of Engineering.
"They started without approval of the National Universities Commission (NUC), which cautioned the institution that it is not right without the requisite resources...we are working with the professional bodies to see that the future of these children are protected in the four faculties," she said.
Meanwhile, arrangements have been concluded by the university to transfer the 344 students of the faculty of engineering to seven other universities in the country to enable them conclude their programmes.

The schools are Admadu Bello University, Zaria, Abubakar Tafawa Balewa University (ATBU) Bauchi, Federal University of Technology, Akure (FUTA),, Federal University of Technology, (FUT) Minna, University of Ilorin and Moddibo Adama University of Technology, Yola.
The minister disclosed that the report of a 'high-powered 40-man visitation panel' that conducted an investigation into the activities of the school exposed rot that is "deeper than what we are seeing now", adding that the report of the panel has been concluded, a white paper drawn and submitted to President Goodluck Jonathan for approval via the office of the Secretary to the Government of the Federation.
In his presentation, the executive secretary of the NUC, Professor Julius Okogie, represented by the deputy executive secretary, Mr Akinbode Agbaoye, said the institution was warned several times (December 2004, 2007 and 2009)by the commission not to set up the faculties, having failed to meet the requirements but it refused to heed them.
Meanwhile, the vice chancellor of the school, Prof James Adelabu, has absolved himself and his administration from the events that preceded the crisis as he resumed duties on the 1st of July, 2009, four years after the school started the programme. He added that he had put an end to admission of new students on the advice of the NUC in 2009.
He maintained that though the Senate of the school approved the withdrawal of results of the affected students, the results are still tenable and would be used for the transfer of the students to FUT, Minna to complete their programme and be issued certificates.