'Political Imbalance': JTF Troops Deployed To Warri/Benin River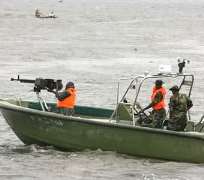 SAN FRANCISCO, March 21, (THEWILL) - With the fears that the growing tension between the Ijaws and Itsekiri in Warri North Local Government Area of Delta State over alleged 'political imbalance' may blossom into a full blown crisis, soldiers attached to the Joint Task Force (JTF), code-named 'Operation Pulo Shield,' have been deployed to the Warri/Benin River.
The soldiers who stormed the Warri/Benin River have been patrolling the waterways with gunboats as they appeared battle ready to stop any threat to peace in the area.
JTF spokesman, Lt. Colonel Onyeama Ugochukwu, could not also be reached for his comment but a source at the JTF base in Koko, the Warri North council headquarters, said the troops are after criminals.
"We are determined to ensure that there is no hiding place for criminals hiding under any guise. We are searching for criminals; law-abiding citizens have nothing to fear. They should go about their lawful business," the source confirmed.
However, there is the fear that the rising tension may eventually lead to a total breakdown of law and order if the vexed issues are not addressed urgently.
It would be recalled that a similar threat to peace over 'political imbalance' which could not be contained immediately had triggered the seven-year crisis between Ijaws and Itsekiri in Warri South West LGA of the state in 1997.
The people of Egbema Ijaws have been at daggers-drawn with their counterparts in Itsekiri over the allocation of political offices in Warri North Local Government Area of the state.
And just few months ago, a group, Egbema for Positive Change, had raised the alarm over series of move by their Itsekiri neighbours to incriminate them over their renewed agitation on the political imbalance and oppression of the Ijaws people in the Council area.
President of the group, Prince Ebimene Fetimi, who confirmed the development, said their Itsekiri counterparts are using their position in government to hinder the progress of the Ijaw people.
"Sequel to the peaceful protest made by the Egbema Ijaws of Warri North LGA, we are now under siege.
Instead of addressing the political marginalisation of the people who are suffering, the military is being used to suppress us. The Itsekiri can do this because their kinsman is the governor of the state," he alleged.
The state government has however refused to comment on the renewed agitations.