WHY SIR JUDE AGBASO SHOULD BE IMPEACHED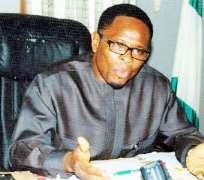 One of the most talked about issues in Nigeria is corruption of public office holders. Everybody talks about it. Everybody condemns it. Executive corruption is practised by ''belleticians'' in Nigeria . Many Nigerian politicians are corrupt. There are two types of politicians dotting Nigeria's political landscape. The first group comprises people who go into politics for service. Such people are propelled by selflessness, service, principles and the need to bequeath a legacy to posterity. They constitute a tiny minority. These people moved into politics with humility, creativity and the penchant to serve the people.
The second group of politicians in Nigeria comprises of people who go into politics because of loyalty to some politicians. Such people are tied to the apron string of their godfathers and they have no opinion of their own. They are like stooges who implement the will of their godfathers, often to the detriment of the people. When such politicians occupy any sensitive position, they rake the public coffers at the sufferance of the people. For this group, what matters to them is their stomach. We call them ''belleticians''. Yes , ''belleticians'' because they have long throat .
''Belleticians'' are like cancer . They make the lives of the rest of us exceedingly miserable. By their corruption in public office, they are punishing the rest of us. Corruption does not show respect to the common good of citizens, thereby retarding development.. Corruption by ''belleticians'' in all its manifestations is a dehumanizing evil force that must be fought with all the energy that we can muster.
We must not accept corruption as normal. In a rousing speech two weeks ago in Owerri, Governor Rochas Okorocha of Imo State called "fighting corruption in Imo State " a current "top priority" of the state government . He spoke movingly about how festering small-time corruption caused a young Tunisian man to set himself on fire, igniting the protests that led to the Arab Spring. This is good news. . Yes, the fight against corruption deserves very strong attention.
A good example of a ''belletician'' in Imo State is Sir Jude Agbaso the deputy governor of the state. Last week the media went wild with stories of impending impeachment of Agbaso over allegations that he received bribe monies totalling N458 million from a construction company. 25 out of 27 members of the Imo House of Assembly have voted for his impeachment. I must commend the Imo House for this move. The Nigerian Constitution specifies that high government officials may be impeached for treason, bribery, or other high crimes and misdemeanours .
We gathered that due to the abandonment of some road projects by some contractors in Imo State, the Imo Joint Committee on State and Local Government Projects went into investigation to find out why the roads were abandoned. In the investigation, it was discovered that Jude Agbaso, the deputy governor of Imo state who was the commissioner for works then , was fingered in a N458 million bribery scam. Acting on the report of the Project Monitoring Committee, the Imo House of Assembly set up a Special Adhoc Committee for further investigation.
Mr. Joseph Dina ,MD of J-PROS International Nigeria Limited confessed that he gave Agbaso a total sum of N458 million on request as kickbacks for the reconstruction of the Sam Mbakwe road in Owerri which was awarded for N1.5 billion . Dina revealed the phone number with which the deputy governor made the request and the account numbers.
To me, the collecting of 458 million naira kickbacks for the reconstruction of the Sam Mbakwe road in Owerri by Agbaso is a crime against Imo State youths and students. There can be no justification for collecting such an outrageous amount of money as kickbacks for reconstruction of a road in a state where 60% of her citizens live on less than 600 naira per day, in a state that has almost 10,000 children on the streets-children without parental care, without shelter. If not for the free education policy of governor Rochas Okorocha ,close to 600,000 Imo children will be out of school. I must pause and commend the Imo state government for free education in the state. No one has demanded school fees from me for my younger sister in Imo state polytechnic.
Rather than show remorse for his crime, Agbaso go about this shameful act with the swagger of a recipient of the Nigerian Merit Award. In a country where shame still has some meaning, a man accused of theft of public money would wear an expression indicating his recognition of the gravity of his alleged offence. Even if falsely accused, such a man would comport himself in a manner that leaves nobody in doubt that he takes the charges seriously but not Sir Jude Agbaso. He granted a press conference and told the public that he is being witch hunted by the governor of the state over agreement between his senior brother Martin Agbaso and the governor on who becomes governor in 2015. A story fit for the dust bin. Ndi-Imo will decide who becames governor of Imo state in 2015.
Agbaso acts and speak with oracular certitude, believing that the system knows him as much as he knows the system. He beats his chest because he feels he knows the required steps and procedures that will free him from this noose. He beats his chest because he feels he knows what lawyer in town handles "jipiti" cases. He feels he knows what Court Judge will grant him horrible injunctions . He feels he knows the price tag of such judge skilled on how to kill a case, by making it run in the court till thy kingdom come.It was also reported that he willfully absconded from office which is a well-orchestrated attempt to paralyze the machinery of the State.
He mistook his ordeal for a wrestling contest. He believes he is a wrestling super star , mobbed by adoring fans and that he is about to be decorated with an olympic gold medal. He sees himself as a man of the people who is being unfairly persecuted for championing the cause of the downtrodden. He is not bothered about how Ndi-Imo tag him. He thrives in the art of rhetorical drama. And he's certainly no believer in polite expression, as if he has decided that the Imo House of Assembly is a joke house . A whole movie could be built around his many unconventional, provocative and even jarring utterances since his ordeal.
This big time embezzler must be impeached. His case is now that of ''na so him dey do'' I still remember when Sahara reporters in 2011 published that he jumped bail in 1994 after United States law enforcement authorities obtained his arrest in a forgery sting? Agbaso and an accomplice Eugene Harding according to Sahara Reporters were arrested on June 20 1994 and charged with criminal possession of a forged instrument in the first degree. They were nabbed allegedly trying to defraud Abraham & Straus Department Store on Roosevelt Field, Old Country Road in Carle Place. When the story came up, it was dismissed as political propaganda. Now what can we say about this present scam that is a disgrace to Ndi-Imo . Na so him dey do abi? A five star practitioner of the act of corruption?
Agbaso must go.We must not allow Imo state to be painted as a State that tolerates or even encourages corruption. It is important to understand that the deputy governor's behavior really is seriously criminal.
We are not talking about neglecting some bureaucratic formality. We are talking about stealing from public coffers which is a crime against the progress of Ndi-Imo. We must oppose legalized official looting wherein political officers loot the state dry. We must fight all those that are insensitive to the plight of Ndi-Imo. I call for his removal and prosecution with the aim to reclaim all monies looted in order to massively invest it in education or health care or even roads that will eventually create jobs to wipe out poverty.Imo people are watching .
Written By Kenneth Uwadi

Disclaimer:

"The views/contents expressed in this article are the sole responsibility of

thewillnigeria.com

and do not necessarily reflect those of The Nigerian Voice. The Nigerian Voice will not be responsible or liable for any inaccurate or incorrect statements contained in this article."
Articles by thewillnigeria.com