Fraudster Jailed over N17.5m Fraud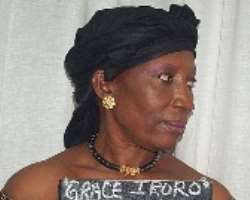 A 62 -year old woman, Grace Iroro has been sentenced to 12 months imprisonment with hard labour for conspiring with others to dupe a banker, Wale Bolorunduro to the tune of N17.5million. She was found guilty by Justice Morenike Obadina of Ikeja High Court on all 3 count charge bordering on conspiracy, forgery and attempt to obtain by false pretences preferred against her by the Economic and Financial Crimes Commission, EFCC.
In 2006, the convict and her accomplices, namely Ayo Disu and Udoh Nnaji who are still at large, approached Mr. Bolorunduro, who was then a manager with the Zenith Bank and offered to sell to him a plot of land at Lekki Phase 2 for the sum of N17.5mllion. To make the phony deal appear as genuine, they presented a forged Certificate of Occupancy of the land bearing the name of the real owner of the property, Mr. Samuel Sosanya. The victim was invited to the 'office' of the fraudsters on Lagos Island where Iroro posed as Mrs. Sosanya, the wife of the owner of the land while Ayo Disu assumed the identity of Mr. Sosanya, the owner of the land. Udoh Nnaji played the part of the agent to the land owner in this brazen scam.
To further convince the victim, they asked him to feel free to verify the authenticity of the Certificate of Occupancy with the relevant authorities. The banker did and truly Sosanya was on the title document at the registry. Believing that it was a genuine transaction, he gave them a date to come to his office to collect the cheque. But just before D-day, in excitement, he decided to inform his friend who is also a Manager with Guaranty Trust Bank. Unknown to the victim, his friend had been duped by the same syndicate over the same plot of land. When the victim gave the description and location of the land, his friend told him his experience and warned against making the payment. On the appointed date, the fraudsters went to the bank ostensibly to collect the cheque but, instead Iroro who is the leader of the gang was arrested and her accomplices took to their heels. The convict has since last Thursday begun her jail term.
|
Article source