Anambra Govt Says it is Paying Special Attention to flood-prone areas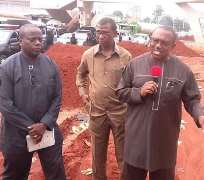 The State Government is to construct a big water channel across the Arthur Eze Avenue to reduce the volume of flood passing through the area, as well as take other measures to check the menace. The Commissioner for Works, Sir Callistus Ilozumba disclosed this while inspecting the extent of damage wrecked by the torrential rain on Friday night.
Sir Callistus said the drain would be constructed near the former Deputy Governor's House to cut off most of the flood coming from inside Awka town to Arthur Eze Avenue.
He explained that the on-going reconstruction of UNIZIK Temporary Site attracted through persistent appeal and representation has expanded the concrete drains to contain the high volume of flood in the area and ensure proper discharge into the Iyiagu drain but regretted that residents of the area have blocked the entire channel along Arthur Eze Avenue with refuse forcing water to erode the road still under reconstruction.
The Commissioner said government had agreed with the contractor to re-asphalt the area while the blocked drainage will be cleaned up to enable flood use the channels created for it.
He also assured that the pavement on the road would be reconstructed, urging the people cultivate proper refuse disposal habit.
The Managing Director of Anambra State Waste Management Agency-ASWAMA, Mrs. Njideka Oraedum said they have embarked on massive and intensive sensitization of the people to inculcate a new sanitation initiative that will help keep the State clean.