GOV OBI ABOUT TO SHUT ONUICHA DOWN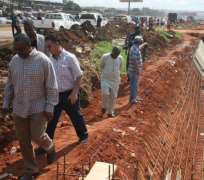 Governor Peter Obi has warned residents of Onitsha and Environs to improve the sanitary condition of the environment or government will shut down socio-economic activities in the State. Governor Obi handed down the warning while inspecting work in some parts of Upper Iweka and Bridge-Head Onitsha.
The Governor lamented that while government is spending huge resources to clean up and rebuild infrastructural facilities in Onitsha to preempt adverse effect of flood following predictions and warning of coming heavy rain and possible flooding, most residents are bent on frustrating the efforts through indiscriminate dumping of refuse, littering the environment and blocking the drainage system. He warned that henceforth any ware or goods displayed on any part of the road will be confiscated and leaders of the traders arrested and detained.
The Governor directed immediate removal of all vehicles in front of NITEL, Upper Iweka and warned that any vehicles caught loading in the area will be confiscated. He explained that government is recovering and rebuilding walkways for pedestrians to work freely.
At bridge head axis of the Onitsha-Enugu Expressway the Governor said all structures in front of the fencing project in the area were illegal and would be removed.
While expressing satisfaction with the quality of the Expressway and the drainage work, the Governor regretted that disruption of work by some individuals has remained a serious challenge to the project which he said government would tackle decisively.