Delta Lawmakers, Govt. Officials Turn DELSU To Haven For Exam Malpractices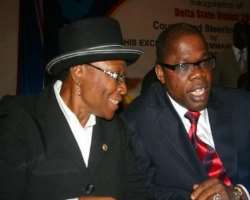 PHOTO: R-L: SPEAKER, DELTA STATE HOUSE OF ASSEMBLY, MR.MARTIN OKONTA WITH DELTA CJ JUSTICE ROSELINE BOZIMO.
Asaba Feb 05, (THEWILL) - As the campaign against examination malpractices in schools continues to get attention, reports from the Delta State University, Oleh campus, Isoko South Local Government Area of the state has revealed that majority of the state House of Assembly lawmakers and government officials studying Law at the institution have allegedly turned the campus into a haven for examination practices.
THEWILL authoritatively learnt that some of the lecturers in the institution also aid and abet in the malpractices after receiving gratifications from the perpetrators of this unholy crime.
Independent investigations by THEWILL revealed that the lawmakers and government officials who are running full time academic programmes in the institution don't bother to attend lectures but once its time for exams they will surface with paid mercenaries to seat for the Examinations with the knowledge of the university authority. Some of those fingered in this practice include Hon. Ovie Festus Agas (Former lawmaker and now DG, DLA), Hon. Sam Obi; Hon. Victor Ochei; Hon Basil Ganagana; Hon. Evelyn Oboro Ojakovo (Former Uvwie council boss); Mr. Augustine Ogbolu; and Mr. Ogbevire Julius (government officials).
Ochei has however, denied his involvement in any examination fraud. On a conference call to THEWILL, he admitted being a Law student at the institution but noted that he had no reason to cheat saying that the Law degree would be his third academic degree, having earned a degree in Engineering from another Nigerian university, and an MBA from a London University. Continuing, he said his position as House chairman on education even makes it more difficult to engage in affairs that could ridicule his person and office.
It was also revealed that for fear of victimization some of the lecturers cooperate with lawmakers and government officials by allowing them and their mercenaries write with materials smuggled into the examination hall.
An impeccable source attached to the bursary department of the institution who pleaded anonymity confided in THEWILL that the perpetrators normally pay a particular mercenary simply called Emma, one of the best-graduated student of the college to organize the scheme.
The source also alleged that in most cases the lawmakers write their exams in their tinted window official jeeps with their paid mercenaries.
Investigations also further revealed that these lawless officials normally use two popular Hotels in the university community, which are located at old Olomoro road and Odoro road to write their Exams.
One of the exam invigilators told THEWILL in confidence that "Our hands are seriously tied. There is no day during exams we don't catch these Honourable members with either textbooks or other materials. You dare not challenge them not even a lecturer dares it, because no one wants to lose his or her Job."
Calls made to get reactions from Hon. Obi, Hon. Ojakovo and Mr. Ogbolu, as well as the school's Provost, Prof. Victor Peretomode were not acknowledged.
|
Article source