Avatar dethroned by Dear John at US box office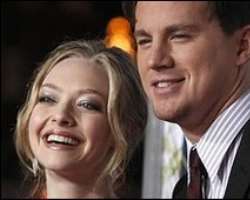 Mamma Mia! star Amanda Seyfried and Channing Tatum star in the film
Romantic drama Dear John has knocked sci-fi epic Avatar off the top spot in the North American box office chart.
The film, starring Channing Tatum and Amanda Seyfried as lovers whose romance is curtailed by the 11 September attacks, took $32.4m (£20.6m).
James Cameron's Avatar took $23.6m (£15.2m) after seven weeks at number one, raising its domestic total to $630.1m (£405m).
John Travolta film From Paris With Love opened at three with $8.1m (£5.2m).
Dear John, based on the novel by Nicholas Sparks, had not been expected to surpass the other-worldly epic but performed considerably better than its estimated box office figure of $20m (£12.8m).
NORTH AMERICAN BOX OFFICE
1. Dear John - $32.4m
2. Avatar - $23.6m
3. From Paris With Love - $8.1m
4. Edge of Darkness - $7m
5. Tooth Fairy - $6.5m
6. When in Rome - $5.5m
7. The Book of Eli - $4.8m
8. Crazy Heart - $3.7m
9. Legion - $3.4m
10. Sherlock Holmes - $2.6m
Source: Hollywood.com
It also had a record opening for Super Bowl weekend - traditionally a quiet weekend in cinemas - topping the $31.1m (£20m) debut for Hannah Montana & Miley Cyrus: Best of Both Worlds Concert in 2008.
Travolta's latest offering was the actor's worst opening weekend since misfiring lottery comedy Lucky Numbers took $4.5m (£2.9m) in October 2000.
Mel Gibson thriller Edge of Darkness and comedy Tooth Fairy starring Dwayne "The Rock" Johnson completed the top five.
Another new entry in the top 10 was Oscar-nominated Crazy Heart at eight, starring Jeff Bridges as a hard-living country music singer.
Meanwhile, Avatar has become the most successful film of all time at the UK box office.
UK cinemas have sold £71.6m of tickets for the sci-fi parable since it premiered on 10 December, surpassing the £69.17m Mamma Mia! took in 2008.