AMORI - A SEASONED STATESMAN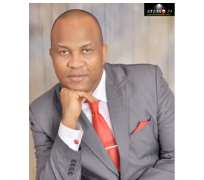 Once in a while, we encounter a man that commands great attention. This type of man is usually bestowed with an enormous amount of charisma, coupled with intellect and compassion. In the case of the Otota of Mosogar Kingdom in Ethiope West Local Government Area of Delta State, Nigeria, it was self-evident. This is no one other than Chief Ighoyota Amori JP. He is also Orhovweguigwe of Ughelli Kingdom, Ataneru of Abraka Kingdom, Otedje of Agbarha-Warri Kingdom, and Adjerese of Okpe Kingdom. In other words, he is a quintuple (5 times) Chief in five Kingdoms, a proof of his cross kingdom recognition.
An undeniable political Icon, Chief Amori has been a part of Delta State government since its creation and has aided in the weaving of the political tapestry of the state, including being a Commissioner of Education (1999-2003) and Commissioner in the Ministry of Water Resources & Development (2006-2007). He has also been Delta State Deputy Chairman of People Democratic Party (PDP) (2008-2010) and Delta State Coordinator of Yar'adua/Goodluck Presidential Campaign (2007). He is currently the Senior Political Adviser to the Governor of Delta State, His Excellency, Dr. Emmanuel Eweta Uduaghan, CON.
Additionally, Chief Amori is the current National Chairman of Urhobo Political Congress (UPC) Worldwide, a political pressure group aimed at ensuring that the 5th largest ethnic group in Nigeria and the largest political voting bloc in Delta State are not taken for granted. He is also a very active member of Urhobo Progressive Union (UPU) Worldwide, an umbrella cultural group of all Urhobos that has been in existence for over 80 years. He clarified the genesis and role of UPC, especially in light of the recent visit of UPU to Arewa Consultative Forum (ACF). UPC was formed after the demise of Urhobo Political Forum (UPF) Worldwide and Urhobo Consultative Forum (UCF). After the 2011 election, the Urhobos realized that the division did not serve them.
On the visit of UPU to ACF, he stated that it was a great move and that UPU, through its President Gen. Patrick Aziza (rtd.). should visit other cultural groups such as Ohaneze Ndigbo, Afenifere and Ijaw National Congress (INC).
There is a difference between a politician and a Statesman. A statesman is defined as an important and experienced politician who is widely known and respected. Not all politicians are statesmen. Chief Amori embodies the difference based on his importance in Delta State, his popularity, his remarkable experience and the respect he commands in the community at large. Chief Amori's influence goes beyond the boundaries of Delta State and beyond the shores of Nigeria. Chief Amori has received numerous awards and commendations. "In recognition of his relentless assistance to students, numerous philanthropic activities and Youth empowerment" he received "Service Pa Excellence" award from National Association of Delta State Students (NADELSSTU), Federal Polytechnic, Oko-Chapter, Anambra State in 2012.
With so many great accomplishments, it is easy to conclude that he was born privileged. However, that is not the case. He was born on August 8, 1952 at Mosogar and attended Evbonogor Primary School in Mosogar. In an interview, he stated one of the obstacles he had to overcome early in life. Apparently, as a child growing up, there was no easy access to the City (Sapele). There were no bridges. Therefore, after he completed Primary School in 1963, he had to wait for 3yrs until the Garmon Bridge was completed. It was then he was able to sit for the entrance exam in 1966 and entered Academy Grammar School in Sapele in 1967. That experience, among others, contributed to developing his strengths, which include perseverance and hard work. Chief Amori is an intellectual and scientist who has a B.Sc. (Hons.) in Geology from University of Benin in 1979 and M.Sc. in Geophysics from University of Ibadan two years later. Chief Amori is a Fellow of the Nigeria Association of Hydro-geologist.
Chief Amori is an astute businessperson that has piloted his company, Amodril (Nig.) Limited to become a very successful indigenous drilling and contracting company.
His personal philosophy is captured as follows: "To champion the cause of all Urhobos, Deltans and Nigerians." He has continued to champion many causes and help elevate people. I asked him about the recent advertorial (see p. 49 of Vanguard Monday, March 4, 2013) by Urhobo Youth Council (UYC) wherein they complained about the dearth of appointment of an Urhobo indigene by President Goodluck Ebele Jonathan GCFR. His reply was that "it is a statement of fact. They are just speaking the mind of the Urhobo people about the current state of politics in the country."
In fact, when Chief Amori turned 60 last year, several well-wishers trooped to his country residence in Mosogar. Even on a normal day in his office at Government House Asaba, it is not uncommon to see his "political children" and many persons he has empowered, present just to greet "Daddy."
Chief Amori is married with children. He is an avid Real Madrid football fan, and his other hobbies include writing and commenting on Public Affairs.
Clearly, the Urhobos, Deltans and Nigeria as a whole are lucky to have such a great and seasoned statesman. If the geophysicist turned political icon had stayed in the laboratory, we would all have lost.
Prof Alex Osondu Atawa Akpodiete is an author, Computer Scientist, Educator, Consultant, lawyer, Political Analyst, Public affair analyst & Social commentator. He has a Doctorate degree in Jurisprudence from the US. He has lectured Law, Ethics and Security & Intelligence Studies at the University level here in Nigeria and US. He also writes for a state daily newspaper & national monthly journal. He currently divides his time between Nigeria and USA where he runs a PR and an international capacity-building firm ATAWA GROUP. Contact him on 08138391661 or [email protected] He is also on Facebook and Twitter.
Disclaimer:

"The views/contents expressed in this article are the sole responsibility of

Prof. Alex O. Atawa Akpodiete, Esq.

and do not necessarily reflect those of The Nigerian Voice. The Nigerian Voice will not be responsible or liable for any inaccurate or incorrect statements contained in this article."
Articles by Prof. Alex O. Atawa Akpodiete, Esq.