Again, Congress, Executive At War Over 2013 Budget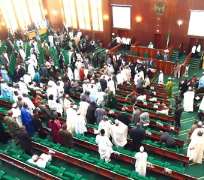 .... DG Budget Office Summoned

ABUJA, March 14, (THEWILL) - The disagreement between the House of Representatives and the executive arm of government Thursday resurfaced as the lower chamber resolved to invite the Director General of Budget Office, Dr. Bright Okogwu, to appear before its committees on appropriation and finance, to explain allegations of breach of the 2013 Appropriation Act linked to him.
The Director General is alleged to have written a memo to all Ministries, departments and agencies (MDAs), directing them to ignore the 2013 appropriation Act but implement the amended version, which is yet to be sent to National Assembly or approved by it.
The decision to summon Okogwu followed a motion moved under matters of urgent national importance by minority whip, Hon. Samson Osagie who expressed shock that shortly after the President assented to the 2013 appropriation bill, there was a letter from the DG Budget Office to all MDAs "instructing them to ignore the contents of the Appropriation Act and implement what is referred to as amended budget…"
He said it was disturbing that a senior government officer could engage in the blatant breach of an extant law, an action, which is "capable of destroying the growing rapport and spirit of cooperation between the legislature and the executive."
Supporting the motion, Hon, Jagaba Ahmed Jagaba (PDP, Kaduna) described the action of the DG as "executive recklessness" adding that a higher authority must have given him the teeth to carry out the directive.
Hon. Abike Dabiri-Erewa (ACN, Lagos) said the development was fraudulent hence the House should scrutinize the entire budget, invite the DG and sanction him appropriately.
In his reaction, Hon. Jerry Manwe (PDP, Taraba) blamed the legislature for abdicating its responsibility and in the process empowering the DG budget to become reckless with power.
Others who supported the motion were, Hon. Sunday Adepoju (ACN, Oyo), Hon. Musa Sarkin Adah (PDP, Sokoto)
Hon. Patrick Asadu (PDP, Enugu), however cautioned the House against taking a hasty decision. He demanded that the letter be read. Also, deputy leader, Hon. Leo Ogor (PDP, Delta) called for a close scrutiny of the letter.