ECOWAS IN SOLIDARITY WITH VENEZUELA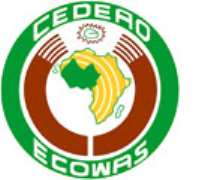 ABUJA, Nigeria, March 12, 2013/African Press Organization (APO)/ -- The Vice-President of the ECOWAS Commission, Dr. Toga Gayewea McIntosh is among dignitaries that have visited the Venezuelan Embassy in Abuja to commiserate with the Government and People of Venezuela over the death of President Hugo Chavez.
Dr. McIntosh, who was received by the Venezuelan Ambassador to Nigeria, Mr. Enrique Fernando Arundell, on Monday 11th March 2013, signed the official condolence register and delivered a letter of condolence by the President of the ECOWAS Commission, His Excellency Kadré Désiré Ouédraogo to the Acting President of Venezuela, His Excellency Nicolas Maduro.
The Vice-President, accompanied on the condolence visit by the ECOWAS Adviser on Health, Dr. Mariane Ngoulla, described the late Venezuelan charismatic leader as a great friend of Africa and a believer in South-South cooperation, who demonstrated his fraternal solidarity with the ECOWAS Community.
He expressed the hope that the excellent partnership and cooperation between ECOWAS and Venezuela would be further strengthened for the mutual benefits of their peoples.
On behalf of the Government and People of Venezuela, Ambassador Arundell expressed his profound gratitude to ECOWAS for the solidarity visit, adding that while President Chavez would be sorely missed, his legacy would endure.
'The people of Venezuela regard President Chavez not as a person but as history,' the envoy said, adding that people like him 'appear at intervals in the life of nations, and disappear after a very short time, leaving a lasting impact on their people.'
In the condolence letter, on behalf of ECOWAS Institutions, President Ouédraogo expressed his heartfelt sympathy, describing the late leader 'As a well-respected World leader who fought for the liberation of his country and people and who during his 14 years in power distinguished himself as a true friend of Africa and pursued concrete policies that promoted South-South Cooperation.'
One of the legacies of the improved Africa-Latin American cooperation under President Chavez's leadership, he said: 'is the 2009 Tripartite Agreement between ECOWAS, Cuba and Venezuela for the Elimination of Malaria in West Africa.'
The ECOWAS Chief reaffirmed ECOWAS solidarity with the people of Venezuela as they mourn the irreparable loss of their leader.