QUEEN CANCELS COMMONWEALTH CELEBRATION ATTENDANCE OVER ILLNESS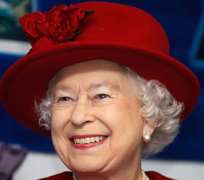 Queen Elizabeth II
Britain's Queen Elizabeth II on Monday cancelled her attendance at a major Commonwealth celebration as she continues to recover from gastroenteritis.
The queen was admitted to hospital last week for 24 hours with the stomach bug and Monday's church service at Westminster Abbey was set to be her first public engagement since then.
A Buckingham Palace spokeswoman said the 86-year-old monarch was in 'great spirits'' and would still attend a reception on Monday evening.
'It's just the tail end of the symptoms, her condition has not worsened at all,'' the spokeswoman added.
At the reception, the queen was due to sign a charter enshrining the bloc's core values, including equal rights.
'We are implacably opposed to all forms of discrimination, whether rooted in gender, race, colour, creed, political belief or other grounds,'' according to the charter, which was agreed by Commonwealth heads of government in December.
Some media portrayed it as the queen's first explicit endorsement of gay rights; however prominent rights activist Peter Tatchell rejected the suggestion.
It represented progress but was not enough, since 41 out of the 54 Commonwealth countries still criminalise homosexuality, he said.
'There appears to be a clause in the charter to prohibit discrimination on 'other grounds',' he said.
'This could be interpreted to cover homophobic discrimination but it will be down to the discretion of individual Commonwealth countries.''
A spokesman for the queen also appeared to reject the supposed endorsement of gay rights by the queen.
'The Queen, as in all matters, is apolitical but is signing the document in her capacity as head of the Commonwealth,' he said.