Asian Shares Pause From Rise After Record Dow, Yen Slips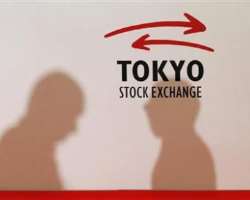 Asian shares eased on Tuesday but growing confidence in the U.S. economy underpinned risk sentiment, while the yen touched fresh lows on speculation over imminent monetary easing.
In the absence of key data to drive direction, regional equities that recently rose on the back of Wall Street's record highs took their cues from local factors. Assets typically linked with risk aversion underperformed, with the 10-year U.S. Treasury yields pinned near an 11-month high around 2.07 percent in Asia.
Financial markets continued to draw support from global monetary accommodations, and expectations for more easing drove the yen and the pound down against the Australian dollar, often used as a gauge for risk appetite.
The Australian dollar climbed to fresh 4-1/2 year highs against the yen of 99.55 yen while the pound hit A$1.4451, the lowest since early 1985.
"There may be adjustments from time to time, but as long as developed countries compete with accommodative monetary policies, assets prices broadly are likely to try their upside," said Takeo Okuhara, fund manager in Tokyo at Daiwa SB Investments.
The MSCI's broadest index of Asia-Pacific shares outside Japan .MIAPJ0000PUS fell 0.3 percent, erasing earlier gains.
Australian shares .AXJO lost 0.6 percent after earlier reaching a fresh 4-1/2-year high, weighed down by the miners as metal prices weakened and disappointing local data showed business confidence fell.
China shares could post a fourth-straight daily loss as mid-sized banks were dragged down after official media reported that the country's banking regulator has launched a nationwide probe of wealth management products. Hong Kong shares .HSI eased 0.3 percent while Shanghai stocks .SSEC slid 1.5 percent.
Seoul shares .KS11 dropped 0.5 percent as hopes for a sustainable U.S. economic recovery were overshadowed by concerns about the weaker Japanese yen and tensions on the Korean Peninsula.
European markets were likely to see a subdued opening, with financial spreadbetters predicting a flat start for London's FTSE 100 .FTSE, Paris's CAC-40 .FCHI and Frankfurt's DAX .GDAXI. U.S. stock futures, with a 0.1 percent drop, indicated a soft Wall Street open. .L.EU.N
The benchmark Standard & Poor's 500 stock index .SPX extended its winning streak to seven sessions and touched its highest intraday level since October 15, 2007 on Monday while the Dow Jones industrial average .DJI closed at a record 14447.29.
Reflecting rising risk appetite in the wake of Friday's solid U.S. jobs data, the CBOE Volatility Index or VIX, .VIX which is often used as a gauge for risk, ended Monday at the lowest level since February 2007.
DOLLAR EYES UPSIDE
Japan's Nikkei stock average .N225 also retreated from earlier 4-1/2-year highs and ended down 0.3 percent. But the yen's drop helped curb losses. .T
The dollar has benefited from last week's strong U.S. jobs data while the yen came under renewed pressure from a report the incoming Bank of Japan governor might convene an extraordinary meeting soon after taking office this month to launch fresh easing to beat Japan's stubborn deflation.
"The latest rise in the dollar/yen stems from U.S. factors, such as improving economic indicators, rising stocks and yields climbing, and 97 yen looks to be in sight," said Koji Fukaya, CEO and currency strategist of FPG Securities in Tokyo.
The dollar/yen may pause in the second quarter, when U.S. economic indicators typically show seasonal weakness, but even so the dollar's downside will be limited to around 92 yen, with a fall below 90 yen becoming increasing less likely, he said.
The dollar rose to 96.71 yen on Tuesday, its highest since August 2009.
Nikkei news reported that Haruhiko Kuroda, the nominee for BOJ governor, may launch monetary easing steps soon after he takes office next week, rather than waiting for early April at the bank's first regular policy board meeting under him.
"Dollar/yen was already very bid overnight, consistent with the backup in U.S. Treasury yields. The Nikkei story has just given it a bit of a kick and it's certainly adding to yen weakness," said Sue Trinh, senior currency strategist at RBC in Hong Kong.
The euro was steady against the yen at 125.60 yen.
Against the dollar, the common currency was down 0.1 percent at $1.3031, held down by worries about Italy's inconclusive elections last month delaying that country's fiscal reform efforts.
Spot gold edged up 0.2 percent to $1,583 an ounce, caught in a range and capped by a key technical resistance of its 14-day moving average, which stood at $1,583.32 on Tuesday.
U.S. crude was down 0.2 percent to $91.85 a barrel and Brent crude fell 0.3 percent to $109.86.
Asian credit markets also improved, lowering the spread on the iTraxx Asia ex-Japan investment-grade index by 1 basis point.
REUTERS