Six Man Panel To Probe Gov. Fashola`s Financial Impropriety Inaugurated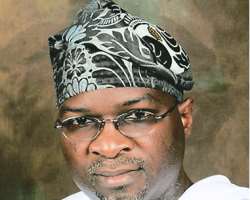 No gain saying, Babatunde Raji Fashola in two years has surpassed many of his colleagues. But in spite of his efforts, critics say his style of governance and development projects are directed toward the rich. They contend that the poor and downtrodden in Lagos state are not part of Fashola`s agenda.
Specifically, Tunde Oduwole, a quantity surveyor and director of MDMC, said, "Tejuosho Market Phase II is a project designed and to be built by MDMC for N2.3billion. The shops were to be sold for about N2-3million each. But, MDMC was forced by Lagos State Government to sell the project to Tunji Olowolafe for a paltry sum of N35m as against their Claim of N152m.
Now; Tunji Olowolafe is executing the project at N5billion and selling the shops at N6million each! All the MDMC contract documents (Drawings and bills of quanties) are being used for the project. The original shop owners can not afford to pay/ buy for the facilities now. I resisted the forced sale of the project to Tunji Olowolafe and I wanted to sue Lagos State government but I was persuaded not to do it by my professional/ co-directors of MDMC. I have all the relevant documents".
However, two other residents of Lagos, in a paid advertorial in some national dailies chronicled allegations of financial impropriety, abuse of due process and the rule of law as well as the violation of several sections of the 1999 constitution by Gov Fashola. The said advertorial was widely condemned by supporters of Gov. Fashola, who aver that it is witch hunt. Nevertheless, Lagos state House of Assembly believes the accusations have merit, and today inaugurated a six man panel to investigate the allegations.
At the inauguration ceremony, Adeyemi Ikurofiji, Speaker of Lagos state house of Assembly said," The inauguration of the six member panel of enquiry today, the 3rd of February, 2010 is to look into the allegations of financial impropriety, abuse of due process and the rule of law as well as the violation of several sections of the 1999 constitution which was published in a National Daily and other publications few days ago".
In the words of Ikurofiji, "The publication has the potential, if not addressed to bring governance in Lagos State to disrepute and public odium. The setting up of the Panel of Enquiry is not aimed at witch-hunting anyone, persons, body-corporate, government department or agencies, rather it is to show to the whole world that, we have nothing to hide and that democracy is alive here in our time.
He added, "It is our considered opinion that if democracy is indeed about the generality of the electorates therefore, it is time to give account of our stewardship. The setting of this body is in tandem with the oversight constitutional responsibilities of the legislative arm of government as enshrined in the 1999 constitution of the Federal Republic of Nigeria. It is also in fulfilment of the oath of office we took when we got into office".
Adeyemi Ikuforiji warned that people should not read inappropriate meanings into the activities of the panel of enquiry, the setting up of the panel will help immensely in further enhancing the building blocks of democratic governance as well as guarantee sustainable, virile and strong democratic institutions and set example in good governance, accountability and transparency. Our Lagos is a Centre of Excellence in all spheres".
Continuing Ikuforiji said,"It is on this note that I shall like to thank the National and State leadership of our great party, Action Congress (AC) for their support and understanding of the action of the legislative arm of government in our State".
"It is very pleasing to read in all the National Dailies today the support and endorsement given to the panel of enquiry to conduct the investigations as expressed by the National Chairman, Chief Adebisi Akande".
"While I will not want to describe the organization that published these allegations with unprintable names, I want to just refer to them as whistle blowers or gatekeepers which are good for the growth and development of democracy in general".
"I want to therefore call on this panel to carefully and painstakingly carry out independent investigation into all the allegations made in the said publication to ascertain the veracity or otherwise of their claims and assertions. I urge you to please discharge your responsibilities without fear or favour in fulfilment of your legislative obligations".
"As I made it abundantly clear to a few demonstrators who came to the premises of the Lagos State House of Assembly on Monday 1st of February, 2010 that in view of their demands and in keeping faith with the responsibility of the Assembly, the activities of the Panel of Enquiry shall be carried out in the open, in the full glare of everyone to demonstrate to the whole world that are no hidden agendas whatsoever. I therefore, urge you all to support the Public Hearing in whatever way necessary".
"Honourable colleagues, Panel members, members of the Fourth Estate of the realm and fellow citizens of Lagos State, let me draw your attention to Section 103(1) of the 1999 Constitution which states that: "A House of Assembly may appoint a committee of its members for any special or general purpose as in its opinion would be better regulated and managed by means of such a committee, and may by resolution, regulation or otherwise as it thinks fit delegate any functions exercisable by it to any such committee."
"Furthermore, the procedure at the hearing shall be as directed by the House Rules based on the powers in Section 101 of the 1999 Constitution which states that: "The House shall have power to regulate its own procedure"
"However, the section up of the Panel of Enquiry is to give effect to the power of this House to conduct investigations as stated in Section 128 1(a), b(i) and (ii) which states that, "the "House shall have power to direct or cause to be directed an enquiry or investigation into".
(a) Any matter or thing with respect to which it has power to make laws; and
(b) The conduct of affairs of any person, authority, Ministry or government department charged, or intended to be charged, with the duty of or responsibility for:
(i) Executing or administering laws enacted by that House of Assembly, and
(ii) Disbursing or administering moneys appropriated or to be appropriated by such House.
"Chairman and members of the panel, let me draw your attention to the provision of the Constitution in the powers of the committee as to matters of evidence. Kindly permit me for the information of the generality of Lagosians that Section 129 1(a), (b), (c) and (d) has granted you unfettered powers to":
(a) Procure all such evidence, written or oral, direct or circumstantial, as it may think necessary or desirable, and examine all persons as witnesses whose evidence may be material or relevant to the subject-matter;
(b) Require such evidence to be given on oath;
(c) Summon any person in Nigeria to give evidence at any place or produce any document or other thing in his possession or under his control, and examine him as a witness and require him to produce any document or other thing in his possession or under his control, subject to all just exceptions; and
(d) Issue a warrant to compel the attendance of any person who, after having been summoned to attend, fails, refuses or neglects to do so and does not excuse such failure, refusal or neglect to the satisfaction of the House of Assembly or the committee, and order him to pay all costs which may have been occasioned in compelling his attendance or by reason of his failure, refusal or neglect to obey the summons and also to impose such fine as may be prescribed for any such failure, refusal or neglect; and any fine so imposed shall be recoverable in the same manner as a fine imposed by a court of law.
"Chairman and members of the panel, I want to use this opportunity again to appeal to members of general public that whosoever has information, documents, memoranda, materials, reports and any other inputs that can help the work of this panel should forward such to the panel or contact the panel through the Clerk of the House of Assembly".
"Honourable Chairman and members of the panel, the panel should endeavour to invite all persons that have been directly or remotely linked with this allegation to come and avail themselves of this opportunity to clear their names. I personally will come before you to clear my name".
"At this juncture, I want you all to know that these allegations have generated interest far and wide, and the whole world is watching we cannot afford to fail; we cannot be an exception to rule".
|
Article source