Venezuelans Mourn Chavez, Prepare For Election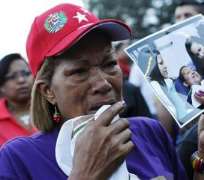 Shattered supporters of Hugo Chavez mourned his death in a flood of emotion that allies of the socialist leader hope will help ensure the survival of his self-styled revolution when voters elect a successor.
Ending one of Latin America's most remarkable populist rules, Chavez died on Tuesday at 58 after a two-year battle with cancer that was first detected in his pelvis.
Thousands of Venezuelans took to the streets to honor the flamboyant and outspoken leader, whose body will be taken to a military academy on Wednesday to lie in state for three days.
State TV ran constant images of past speeches and appearances, under the banner "Chavez lives."
The future of Chavez's leftist policies, which won him the adoration of poor Venezuelans but infuriated opponents who denounced him as a dictator, now rests on the shoulders of Vice President Nicolas Maduro, the man he tapped to succeed him.
"In the immense pain of this historic tragedy that has affected our fatherland, we call on all the compatriots to be vigilant for peace, love, respect and tranquility," Maduro said. "We ask our people to channel this pain into peace."
Maduro, a 50-year-old former bus driver and union leader, will probably face opposition from Henrique Capriles, governor of Miranda state, in the next election in the OPEC nation with the world's largest oil reserves.
The stakes are huge for the region, given the Chavez government's crucial economic aid and cheap fuel supplies to allies across Latin America and the Caribbean.
Authorities said the vote would be called within 30 days, but it was not clear if that meant it would be held, or simply that the date would be announced.
One recent opinion poll gave Maduro a strong lead over Capriles, in part because he has received Chavez's blessing as his heir apparent, and he is likely to benefit from the surge of emotion following the president's death.
The tall, mustachioed Maduro has long been a close ally of Chavez. He immediately pledged to continue his legacy, and would be unlikely to make major policy changes soon.
Maduro will now focus on marshalling support from Chavez's diverse coalition, which includes leftist ideologues, business leaders, and radical armed groups called "colectivos."
Some have suggested he might try to ease tensions with Western investors and the U.S. government. Yet hours before Chavez's death, Maduro alleged that "imperialist" enemies had infected the president with cancer and expelled two U.S. diplomats accused of conspiring with domestic opponents.
"DON'T BE ANXIOUS"
A victory by Capriles, 40, a centrist politician who calls Brazil his model for Venezuela, would bring big changes and be welcomed by business groups, although he would probably move cautiously to lower the risk of political instability.
"This is not the time to stress what separates us," Capriles said in a condolence message, calling for unity and respect for the loss that many felt after Chavez's demise.
"There are thousands, maybe millions, of Venezuelans asking themselves what will happen, who even feel fear ... Don't be scared. Don't be anxious. Between us all, we're going to guarantee the peace this beloved country deserves."
Military commanders pledged loyalty to Maduro, who will be Venezuela's caretaker leader until the election. Defense Minister Diego Morales said a 21-gun salute would be fired at 8 a.m. (1230 GMT) on Wednesday to honor Chavez.
It was not immediately clear where Chavez would be buried. He had ordered a striking new mausoleum built in downtown Caracas for the remains of independence hero Simon Bolivar, his inspiration, and it is due to be finished soon.
Influential "Chavista" legislator Freddy Bernal said Chavez should be laid to rest there too: "For his political brilliance and commitment to the country, Commander Chavez has earned his place beside the Liberator Simon Bolivar in the Pantheon."
Much of Caracas was quiet overnight, with streets deserted, especially in wealthier districts. Many shops locked their doors in fear of looting as news of Chavez's death spread.
Hundreds of emotional "Chavista" loyalists gathered overnight outside the military hospital where he spent his last two weeks. A female TV reporter from neighboring Colombia was beaten up, and gunshots were fired in the air.
Although they had weeks to come to terms with Chavez's likely demise, many of his supporters were overcome with grief.
"He was our father," said Nancy Jotiya, 56, sobbing in the city's central Plaza Bolivar. "He taught us to defend ourselves. Chavismo is not over! We are the people. We will fight!"
There was sadness in other Latin American countries too, especially those run by leftist friends of Chavez.
Bolivian President Evo Morales flew in stony-faced on Wednesday to join the mourning. The presidents of Argentina and Uruguay also arrived before dawn, state media said.
"NO SURRENDER"
"No one should surrender; nobody should abandon the fight," said Diosdado Cabello, the head of the National Assembly.
"May the difficulties strengthen our souls, and may our commander show the way."
Messages of condolence flooded in from around the world - ranging from United Nations Secretary General Ban Ki-moon to Chavez's ally Iran.
U.S. President Barack Obama was less effusive about a man who put his country at loggerheads with Washington, saying his administration was interested in "developing a constructive relationship with the Venezuelan government."
Chavez led Venezuela for 14 years and had easily won a new six-year term at an election in October, defeating Capriles.
His folksy charisma, anti-U.S. diatribes and oil-financed projects to improve life for residents of long-neglected slums created an unusually powerful bond with many poor Venezuelans.
That intense emotional connection underpinned his rule, but critics saw his autocratic style, gleeful nationalizations and often harsh treatment of rivals as hallmarks of a dictator whose misguided policies squandered a historic bonanza of oil revenues.
Venezuela has the largest crude reserves in the world, but the nationalizations and strict currency controls under Chavez frightened off investors. Even some of his followers complained that he focused too much on ideological issues at the expense of day-to-day problems such as power cuts, high inflation, food shortages and violent crime.
The country's widely traded bonds were expected to rise on Wednesday, driven higher by investors' hopes that his passing could usher in a more business-friendly administration.
The government declared seven days of mourning.
"The funeral of Chavez is going to rival Eva Peron's," said U.S.-based Venezuela expert Daniel Hellinger, recalling the beloved first lady of Argentina, who died at age 33 in 1952 at the height of her popularity.
Chavez's health weakened severely just after his re-election on October 7, possibly due to his decision to campaign for a third term instead of stepping aside to focus on his recovery.
REUTERS