Nigeria cabinet split over sick President Yar'Adua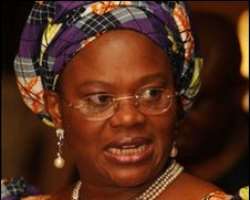 Dora Akunyili: President's absence has paralysed government
Nigeria's information minister has urged cabinet colleagues to accept that President Umaru Yar'Adua is no longer fit to lead, a BBC source confirms.
In the first sign of a cabinet split over the saga, Dora Akunyili tabled a memo requesting power be handed over to Vice-President Goodluck Jonathan.
Cabinet sources told the BBC her motion was shouted down.
Mr Yar'Adua has been in hospital in Saudi Arabia since November, fuelling fears of a power vacuum.
His absence has led to a flurry of court cases and street protests demanding that power be handed over.
Despite his long absence, the cabinet issued a statement last week saying Mr Yar'Adua was "not incapable" of running the country.
YAR'ADUA ILLNESS TIMELINE
23 November 2009 Goes to hospital in Saudi Arabia
26 November Presidential doctors say he has pericarditis - inflammation of the heart lining
23 December First court case filed urging him to step down
5 January 2010 Two more court cases filed, rights group wants president declared "missing"
12 January President gives first interview from Saudi Arabia
27 January Cabinet declares president fit
29 January Court says no need for formal transfer of power

---
The federal high court has ruled that there is no constitutional requirement for the president to hand power to his deputy but says the vice-president can act on his behalf.

In a cabinet meeting on Wednesday, Ms Akunyili told her colleagues that the president should hand over power because his absence had paralysed government.

No cabinet ministers have commented on the meeting, and the memo has not been made public.

But it is believed Ms Akunyili intends to file the same motion in next week's meeting.

Nigeria's split between the mainly-Muslim north and the mainly-Christian south has complicated the issue, analysts say.

Northern power-brokers may be reluctant to see Mr Yar'Adua, a northerner, hand over power to Vice-President Jonathan, from the south, before the next scheduled presidential elections in 2011.

Since the return to civilian rule, power has usually rotated between the regions.

The president is suffering from an inflammation of the lining around the heart and has long suffered from kidney problems.