House Moves To Avert ASUU Strike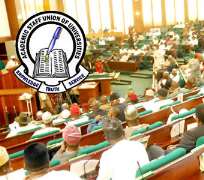 ABUJA, March 05, (THEWILL) – In a bid to avert the impending strike by the Academic Staff Union of Universities (ASUU), the House of Representatives, Tuesday, summoned the Minister of Education, Prof. Ruqayyatu Rufai, and officials of the Academic Staff Union of Universities (ASUU) to appear before its committee on education.
The House took the decision after adopting a motion brought under matters of urgent public importance by Hon. Bashir Babale (PDP, Kano).
Arguing on the motion, Babale said it is becoming worrisome that university lecturers would have to embark on strikes to force government to meet its obligations on issues that have been agreed upon in the best interest of the national tertiary education.
He urged the House to intervene with a view to averting the impending strike which ultimatum expires in nine days in the interest of the national education sector.
Hon. Ossai Ossai (PDP, Delta) who seconded the motion said without proper education, the national democracy cannot survive and that if university education collapses, it will affect other sectors in the nation.
He also said that it will be wrong for the government to allow any strike reminiscent of the 2009 strike, which was called off after the government reached an agreement with ASUU.
It will be recalled that following the non-implementation of the 2009 agreement reached between ASUU and government, ASUU had issued an ultimatum to the Federal Government to meet with its demands or face another industrial action.