ANAMBRA STATE GOVERNOR EXTENDS FINANCIAL GOODWILL TO UMULERI AND NSUGBE SCHOOLS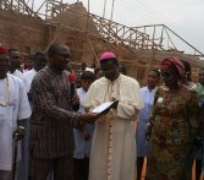 Anambra state Governor ,Mr Peter Obi today in continuation of his gesture to schools in the state, presented cheques worth 100 Million Naira to schools in Anambra State for provision of infrastructure in the schools. Some of the benefitting schools are Father Joseph Secondary School, Agulueri, Girls' High School, Umueri and Holy Rosary Girls College of the Missionary Sisters of the Holy Rosary at Ogwari Nsugbe, Anambra East Local Government Area. Presenting the cheques, he said he was impressed with the remarkable changes recorded in Anambra schools since they were returned to the missionaries. He reinstated the commitment of his administration to restore the glory of the school and promote learning process.
The Catholic Archbishop of Onitsha, Most Reverend Valerian Okeke who received some of the cheques thanked God for giving the State a dedicated Governor who remained committed in rebuilding the State and has effectively redressed the damage afflicted on Education after the civil war. He explained that returning schools to the church is promoting positive character formation, academic excellence and healthy competition which he observed, will help to build a good society and a better country as well as discourage culture of recklessness, violence and impunity. He said that the Governor had continued to demonstrate commitment in building a better future for the children and the society.
The Regional Leader of the congregation, one of the beneficiaries of the cheque, Reverend Sister Patricia Nkwo expressing gratitude to the Governor for the assistance promised that the fund will be judiciously used to ensure that the project is completed as early as possible. She observed that the Governor's passion and laudable efforts have uplifted the Education Sector to a pride of place.
In a related development, Gov. Obi expressed happiness over what he called the positive fruits from the State partnership with the Church. He disclosed that the State Executive Council has approved the handover of the State Health facility at Nmiata to a congregation of Reverend Sisters.
In his remarks, the Transition Committee Chairman, Njikoka Local Government Area, Chief Dazza Udozor commended the congregation for initiating many projects on education sector to complement the efforts of the Governor to take Education to the next level.
Also speaking, the Transition Committee Chairman, Onitsha South, Mr. Ugochukwu Ezeani noted that the State Government partnership with the church has restored quality and moral standard in schools.