ROJENNY STADIUM,GOV OBI TO THE RESCUE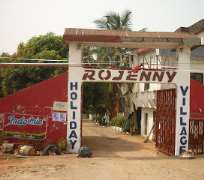 Governor Peter Obi has presented a cheque for thirty million Naira for the resuscitation of the collapsed Rojenny sports facilities. Governor Obi who presented the cheque after inspecting the facilities said the gesture was in line with the policy of his administration to turn around all sectors.
The Governor regretted that such a huge investment by an individual has been allowed to waste away for years without government intervention and reinstated the commitment of his government to continue to support individual developmental initiatives. He explained that government is strategically building and rebuilding sports facilities across the State for effective harnessing of abundant sports talents and restore the State status as a pace-setter in sporting activities.
Governor Obi said this would equip youths adequately to explore their potential and discourage them from crime and anti-social activities. He assured that he will also attract companies and investors to assist and urged other interest groups to support the venture.
The Commissioner for Sports and Youth Development, Dr Edozie Aroh, said when rebuilt, the facilities will be used to train sports talents of various categories. Dr. Aroh explained that competitions and championships could also be hosted there as was the case before the collapse.
A former speaker, old Anambra State House of Assembly, Chief Ifeanyichukwu Enechukwu, while thanking the Governor for the intervention, said the governor had given a new definition to governance and was rebuilding a new state that was setting pace for others in all sectors. Chief Enechukwu noted that for the first, the dream and vision of the founding fathers of the State are being realized and enjoined the people to continue to support him.
Responding the proprietor of the facility, Chief Rommy Ezeonwuka, said the Governor initiated a revolution that elevated the State to a pride of place and urged other leaders to emulate him. He assured that the fund will be judiciously managed to achieve the assured goals.