One Year after Ojukwu: APGA Mega Rally Shakes Anambra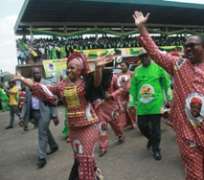 APGA yesterday embarked on what would easily pass for Mother of all Rallies, considering the number of people, over 25,000, that attended the rallies at Ekwueme Square, Awka, yesterday.
The date for the rally was purposely chosen, according to Governor Peter Obi, to coincide with the first year anniversary of the burial of Dim Chukwumemka Odumegwu-Ojukwu. Obi said that it was an opportunity to celebrate Dim Ojukwu for what he was to the Igbo people and to invoke his spirit to continue to be with, and guide APGA as it embarks on the process of rebuilding and strengthening the party.
The high point of the rally was the reception of Mr. Dozie Nwankwo who contested against Hon. Uche Ekwunife for Anaocha/Njikoka/ Dunukofia Federal Constituency in the last election and Emma Nkwocha with over 5000 of their members into APGA.
Short speeches were taken from Gov. Obi, Bianca Ojukwu, Dr. Tim Menakaya, Maxi Okwu, Odi Nwosu, among others. They all expressed happiness at the rejuvenation of APGA and called on the members of APGA to embrace the new spirit and work hard for the growth of the party. The Chairman of all Chairmen, Alhaji Isa Jiga said they would give Maxi Okwu all necessary support to build on what he has already achieved. All the speakers commended Gov. Obi for sustaining the party and for his growing interest in the progress of the party.
Four points Communiqué signed by the Acting Chairman of the party, Maxi Okwu and the Acting Chairman of the Board of Trustees reads: "1. We remember and honour our departed National leader, Dim Chukwuemeka Odumegwu-Ojukwu and remain committed to his ideals which led to the formation and foundation of our great party. 2. We reaffirm that the Late Dim Chukwuemeka Odumegwu-Ojukwu remains our National Leader even in death and that Governor Peter Obi, is the Deputy National Leader of our great party. 3. We state categorically and unequivocally that our great party, APGA, is not a member of any merger of political groups, parties, association by whatever name. We stand by our earlier resolution to continue to support His Excellency President Goodluck Ebele Azikiwe Jonathan. 4.We state that our great party remains committed to good governance in Nigeria at all levels of government. We thank our Governor, Peter Obi, for the very good work he is doing in Anambra State and urge him to continue with the good work he is doing in the State and in the country in general."
The role call at the rally includes: Gov. Peter Obi, Governor, Anambra State: Emeka Sibeudu, Deputy Governor; Chinwe Nwebili, the speaker and her deputy, Chukwudi Orizu; Dr. Tim Menakaya, BOT member; Ambassador Bianca Ojukwu, Prof. Dora Akunyili, Ambassador Odi Nwosu, Barr. Obinna Obiegue, Ochiagha Reagan Ufomba, Hon Chuma Nzeribe; all the former members of APGA National Working Committee now functioning on interim basis, namely, Chief Chris Uche, Alhaji Garba Barne, Eveng. Chinyere Okeke, Bernad Akoma, Sunday Obaslam, Chief Dickson Osu, Tondo Joseph, Ella Nwabueze, Ferguson Okpara, Hon. E.A Shonubi, Dr. gbenga Afeni, Abubakar Adamu,Dr. Sagir Auwal Maidigu, Lawal Barma, Alfred Nwosu, Dr. Isa Jiga, Mrs Victoria Oyeng Ambassador Frank Ogwuewu, Chief Reagan Ofomba, Hon. Okey Udeh, Chief Okey Ezeibe,
Others are all APGA members at the National Assembly, except Uche Ekwunife as well as all Anambra House of Assembly members and some Assembly members from other States.
108
109