Obama Calls Lawmakers Over Spending Cuts; No Resolution Seen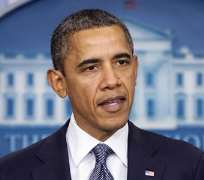 President Barack Obama has reached out to Republican and Democratic lawmakers in search of a resolution to automatic across-the-board government spending cuts, a White House official said on Sunday, but Republican congressional leaders offered little hope for a quick solution.
House of Representatives Speaker John Boehner, the top Republican in Congress, and Mitch McConnell, the Senate Republican leader, both expressed confidence that there would not be a government shutdown at the end of the month amid the showdown with Obama over federal spending.
"I don't think anyone quite understands how it gets resolved," Boehner said on the NBC program "Meet the Press" as he put the blame squarely on Obama and his fellow Democrats.
"It's time for the president and Senate Democrats to get serious about the long-term spending problem that we have," Boehner said.
Obama late on Friday formally ordered broad cuts in government spending after he and congressional Republicans failed to reach a deal to avert the automatic reductions that could dampen economic growth and curb military readiness.
Government agencies now will begin to cut a total of $85 billion from their budgets from now through September 30 under automatic reductions known as "sequestration." Half of the cuts will fall on the Pentagon.
Gene Sperling, director of the White House National Economic Council, said Obama spoke on Saturday afternoon with a select group of lawmakers to try to find a path out of the current fiscal crisis - a "bipartisan compromise." He did not identify the lawmakers to whom Obama spoke.
"He's reaching out to Democrats who understand we have to make serious progress on long-term entitlement reform, and Republicans who realize that if we had that type of entitlement reform, they'd be willing to have tax reform that raises revenues to lower the deficit," Sperling said on the CNN program "State of the Union."
Obama did not call McConnell or Boehner, Sperling said, noting that the president had met with them on Friday in a meeting that failed to resolve the issue.
McConnell played down the severity of the automatic cuts, describing them as modest.
"We're willing to talk to him (Obama) about reconfiguring the same amount of spending reduction over the next six months," McConnell said on CNN. "The American people look at this and say, 'Gee, I've had to cut my budget more than this,' - probably on numerous occasions over the last four years because we've had such a tepid economy now for four long years."
Congress and Obama could still halt the cuts in the weeks to come, but neither side has expressed any confidence they will do so. Both Democrats and Republicans set the automatic cuts in motion during feverish deficit-reduction efforts in August 2011.
Democrats predicted the cuts could soon cause air-traffic delays, meat shortages as food safety inspections slow down, losses to thousands of federal contractors and damage to local economies across the country, particularly in the hardest-hit regions around military installations.
At the heart of Washington's persistent fiscal crises is disagreement over how to slash the budget deficit and gain control of the $16 trillion national debt, bloated over the years by wars in Iraq and Afghanistan and government stimulus for the ailing economy.
Obama wants to close the fiscal gap with spending cuts and tax hikes. Republicans do not want to concede again on taxes after doing so in negotiations over the "fiscal cliff" at the New Year.
REUTERS