JUSTICE SCALIA, IN THE OBAMA ERA, RACIALIST LEGAL STRATEGY IS DEAD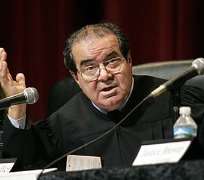 For too long Associate Justice Antonin Scalia was the Supreme legal Bully in the highest court of the land in the United States of America. Justice Scalia appears to be misunderstanding today's America for the turning part of the 20th century, and the very early part of this century. A line of periods when the self-described Constitutional traditionalist, Originalist or ''textualist '' took every opportunity to display himself as a chief ideological figure on the Court.
Then came a man called Barack Hussein Obama, a man of racial minority by America's standard, a man of mixed race, a man of America, and Africa, and above all, by virtue of the power of the American majority became the President of the United States of America, not only once but twice!
Scalia, a White man with all the blessings of racial entitlements in America, as evidenced by been confirmed in a Senate vote of 98-0 in 1986, appears to be in a state of perpetual bitterness, especially now.
It must hurt when Justice Sonia Sotomayor, a woman by birth, and of Latino ancestry for that matter; appointed by the President of the United States Of America and confirmed by the U.S. Senate on August 6, 2009, is wasting no time to call him out as in recent times.
On Wednesday, the 27th of February, 2013, the Supreme Court heard oral arguments in the case of Shelby County v. Holder, a case that is about the Section 5 of the 1965 Voting Rights Act, which centers on protecting racial minority citizens from discriminatory State voting laws, or prohibitive practices, through the power of the federal government.
On this fateful day, Justice Scalia questioned the continued relevance of Section 5 of the Voting Rights Act, and he used clear words of racial overtones, as in branding the law a "racial entitlement"
But Justice Sotomayor in an indirect rebuke of Justice Scalia's racial inflammatory remarks, asked the Deep South Alabama county lawyer challenging the law, Bert Rein, "Do you think that the right to vote is a racial entitlement in Section 5?… Do you think Section 5 was voted for because it was a racial entitlement?" He gave no answer.
Justice Scalia, an apparently overwhelmed old White male lawyer, also appeared to be acting as a supreme psychologist when he questioned the motives of the men and women of the United States Congress who voted to reauthorize the law five times, most recently in 2006 by a 98-0.
He appears to be accusing and blaming Congress for pandering for votes in order to keep their jobs despite the fact that both conservative and liberal legislators had multiple, objective evidence to keep the law alive.
Justice Scalia, recalls clearly the attributable racial complex of America, he certainly remembers the phenomenon that is called perpetuation of racial oppression in America, and he cannot deny the bloody street-based political processes that made it possible for a man called Barack Hussein Obama to become the President and for a woman called Sonia Maria Sotomayor to be sitting side by side with him.
Yet he calls himself an Originalist, as if Blacks and Latinos as well as others like women in general may not count in his original thought process.
On a day within the Black History Month, on a day when President Obama unveiled a new statue of Rosa Parks in the U.S. Capitol, Scalia the old White man would blatantly disengage himself from an emotional and legal history as in the case of Rosa Parks, a 42-year-old Black seamstress; a secretary at the local NAACP, who caught a bus in Montgomery, Alabama, and sat down, only to be ordered by the White bus driver to surrender her seat to a white man.
And when the exhausted Parks refused, he asked Parks why she didn't stand. "I don't think I should have to stand up," she replied. "Well, if you don't stand up, I'm going to have to call the police and have you arrested," Blake responded, and she was subsequently arrested, a move that detonated the Montgomery Bus Boycott, a major landmark in the civil rights movement.
How could Scalia forget this, except he thinks he is racially entitled to overlook this painful part of American history? How could he forget that in recent times Section 5 has been used successfully to block unusual restrictions to early voting in Florida, and to stop voter ID laws in Texas and South Carolina?
Whether Scalia believe it or not, change has come in America as powerfully and confidently noted by President Obama; therefore, no matter how this case ends the Roberts Court will feel the newfound pressure from multicultural America on an ongoing basis.
In that President Obama will ensure that he appoints more Justices that purely represent the new America.
On march 11, Justice Scalia will exactly be 77 years old, and with no stopping consequences of the new multicultural stress on conservative extremists in America, which is resulting from the Obama Era, and with more fight from the likes of Justice Elena Kagan, Scalia's next possible response to the Obama pressure which will remain forceful may be to leave the Court abruptly but he should apologize first, and even with an apology as long as he remains in the Bench, Justice Kagan's face will continue remind him that he does not have any form of "big new power to decide whether racial discrimination has been solved."
Justice Sotomayor will continue to feed him with words of perpetual freedom, of perpetual equality, and as new Justices are likely set to come during the Obama Era the fight for the new America will continue in perpetuity.
Written By Dr. John Egbeazien Oshodi
[email protected]

Disclaimer:

"The views/contents expressed in this article are the sole responsibility of

thewillnigeria.com

and do not necessarily reflect those of The Nigerian Voice. The Nigerian Voice will not be responsible or liable for any inaccurate or incorrect statements contained in this article."
Articles by thewillnigeria.com