UK-France 'Entente Frugale' Defense Pact Here To Stay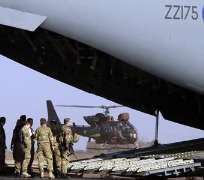 Dubbed the "entente frugale" by wags and criticized by some as a dangerous dilution of military sovereignty, Franco-British defense cooperation is nonetheless growing stronger.
Shrinking budgets, a less indulgent United States and Europe's diminishing military clout in the world have bolstered the two countries' determination to work together.
That contrasts with the prickly relations between French and British politicians, who have come to blows in recent months on everything from taxes to the European Union budget.
"While the politicians may trade barbs, defense knows there's nowhere else to go other than working closely together," said James Arbuthnot, head of the British parliament's Defense Select Committee.
"At the defense level the cooperation and friendships are more than cordial, they are warm," he said, joking that he had forgiven France for killing an ancestor at Trafalgar.
But there have been hiccups in the complex business of bringing Europe's two biggest militaries together.
Britain has in recent weeks helped France with logistics in Mali, where French forces are battling Islamist rebels, but senior military officials had to step in when British pilots refused to carry French ration packs containing matches.
"So what? You can't carry matches or lighters on British military planes. I think we can work around that," said a French military official, speaking on condition of anonymity.
"There's no question how strong our military ties are. There is no questioning the need for strong defense cooperation, everyone's convinced of that on both sides of the channel."
There are more serious problems in cooperation on equipment projects, and some question how much each country is prepared to depend on the other to defend vital national interests.
"WE PAY AND WE PLAY"
Since the Lancaster House defense cooperation treaties of 2010, Britain and France have joined forces to counter Islamists in Mali and helped topple Libya's Muammar Gaddafi.
Last month pilots from each country flew the other's new fighter jets for the first time, following a major joint naval exercise in October dubbed "Corsican Lion", part of efforts to create a Combined Joint Expeditionary Force by 2016.
And in an unusual step that Arbuthnot labeled an "extreme courtesy", France has invited Britain's ambassador - along with a German diplomat - to help draft France's next long-term military plan, the Livre Blanc.
U.N. Security Council members France and Britain together account for around half of European military spending, have armed forces of similar size and are unafraid to deploy troops - "We pay and we play", in the words of one British official.
But for decades Britain closely allied its defense strategy to that of the United States, while France sought to develop independent military muscle, and in 1966 left U.S.-dominated NATO's integrated military structure.
Former French President Nicolas Sarkozy in 2009 brought France back into the NATO military fold.
"In terms of the defense relationship, Sarkozy was a gift to us," said a British official.
Fears that Sarkozy's replacement by socialist Francois Hollande would undermine the entente have proved unfounded.
"Everyone was nervous when Sarkozy left. Sarkozy and Cameron really had camaraderie. But the politics is to all intents and purposes unchanged. The goodwill is still there," the British official said.
France and Britain played leading roles, along with the United States, in the 2011 NATO aerial campaign over Libya.
"Libya was their first conflict since the return to NATO military structures and they found it quite helpful. It was quite a formative experience for them," said a NATO diplomat.
"OTHERS GETTING BIGGER"
European economic woes are even deeper now than in 2010, when Britain began cutting defense spending to the current level of about $52 billion, a similar budget to France's.
China, India and other emerging powers are increasing defense spending. The United States has made clear it is fed up with picking up much of the tab for European security and has demanded its allies do more as it pivots towards Asia.
"Look at the geopolitical evolution of the world. It's not that we're getting small due to our economic situation, it's just that others are getting much bigger. The scale is no longer the nation state," said a French diplomatic source.
Further yoking the two militaries together are joint equipment projects, including nuclear missile testing.
British defense contractor BAE Systems and France's Dassault Aviation were last year awarded a contract to develop next-generation unmanned drone aircraft.
There are still sore points. Cameron has tried to persuade India to ditch a multi-billion dollar order of France's flagship fighter jet, the Dassault-built Rafale, and instead pick the Typhoon, built by BAE and European partners.
"We cannot afford any more to have the Typhoon vs Rafale. The idea is to have one future combat air system, a Franco-British one," said the French military source.
Experts say plans to cooperate on testing nuclear warheads in Britain and in France are on track. France has traditionally made much of its independent nuclear might, while Britain has relied in part on U.S. kit.
"Which other nations can work together on such a key element of sovereignty, opening a bit of that sanctum of a nation's insurance policy to another?" said the French diplomatic source.
Cooperation has been hindered by timing. Britain set out its 10-year military strategy in a 2010 review, while France's Livre Blanc is due in spring.
"There is a lack of alignment in policies between France and the UK so far. There is a gap in understanding between industries and governments," said defense analyst Claire Chick.
FALKLANDS QUESTION
There is a limit to how far Britain can rely on French military help, Arbuthnot said, citing the example of the Falkland Islands, over which it warred with Argentina in 1982.
Argentina has in recent months stepped up its rhetoric in staking its claim to "Las Malvinas".
"Doing more with allies means that you have to decide to get rid of capability because you will be relying on your ally to provide that capability in times of need," Arbuthnot said.
"How can we be sure, and this is an existential question, that that capability would be available even after a change of government in our allied country and in circumstances where that ally profoundly disagreed with our policy?"
Paris sees the issue differently. "The Falklands is not a good question. What if? You have hundreds of cases with no answers," the French official said, adding the real question was whether a country could afford full military capability alone.
"If that's the case, then there is no need for cooperation. If it's not the case, then you may have to accept some risks, and choose a partner you're ready to work with."
REUTERS