Okonjo-Iweala Blames Port Congestion On Corruption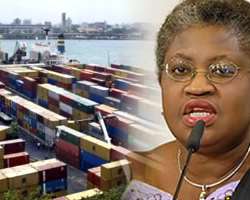 ABUJA, February 28, (THEWILL) – Minister of Finance and Coordinating Minister for the Economy, Dr Ngozi Okonjo- Iweala, Thursday, attributed the problem of congestion at the nation's ports to corruption among government officials.
The minister made the disclosure at the investigative hearing organised by the House of Representatives joint committees on finance, customs and marine transport in Abuja.
Represented by the permanent secretary in the ministry, Mr. Dankadi Kifasi, the minister said there was a need to improve the general port operations in the country.
" Nigerian ports need to enhance their efficiency to come close to international best practices," she said.
According to her, the decongested roads in the port's vicinity were being reversed to its former state, explaining that the situation was made worse by the lawlessness of tanker drivers lifting petroleum products from tank farms.
She disclosed that the Ports Reform committee was currently collaborating with the Lagos State Government to solve the perennial traffic congestion, adding that the Federal Ministry of Works had also commenced rehabilitation of the access roads to the ports.
Okonjo-Iweala noted that the existence of a functional, efficient port system would boost international trade and revenue profile of a nation.
In his presentation, the Minister of Transport, Alhaji Idris Umar, said that a bill to further sustain port reforms would soon be submitted to the National Assembly.
Umar explained that the bill would seek to repeal the Nigerian Ports Authority Act of 1999 and enact the Nigerian Ports and Habours Act, 2013.
Represented by the permanent secretary, Mr. Nebolisa Emordi, the minister said to ensure efficiency in the operations in the ports, the number of agencies operating at the ports had been reduced from 14 to 7.
In his response, chairman of the House of Representatives Committee on Finance, Hon. Abdulmumin Jibrin ( PDP- Kano), said for Nigeria to be a cargo hub for West and Central Africa maritime region, its ports operations must conform to global best practices.
He noted that when there was congestion at the ports, ships with goods are diverted to neighbouring countries and revenue lost.