Corruption, Threat To Nigeria's Democracy - Mogae... As Gowon, Waziri, Other Urge Support For Anti-war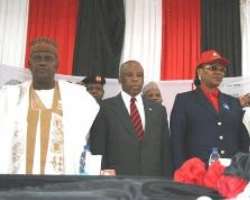 Former president of Botswana, Mr. Festus Mogae, has described corruption as a threat to democracy in Nigeria even as he challenged the masses of the nation to rise up against the corrupt by denying them the opportunity of controlling power and influence.
His call came as General Yakubu Gowon, Nigeria's former head of State canvassed for more enabling powers for the country's anti-graft watchdog to enable it function effectively in a way that it can bring an end to all economic crimes , disrespect to lawful authority and acts inimical to good governance.
The two former presidents spoke in Gombe on Tuesday, February 2, 2010, during the launching of the Anti-Corruption Revolution Campaign, ANCOR, in the North –East and North – West Zones of the federation.
Mogae, a 2008 recipient of the prestigious Mo-Ibrahim Prize for Achievement in leadership said that corruption can circumvent the will of the people and undermine the rule of law "as it is the enemy number one of law and order and good governance".
While saying that corruption distorts priorities as those who are corrupt tend to give priority to development projects of little or no national benefits, the former president said the ANCOR project requires a realistic and honest assessment of the extent of corruption in Nigeria and its dimensions.
He, however, warned that without political will, the ANCOR campaign will not go anywhere. Mogae also noted that for the anti-corruption campaign to succeed, the government must be prepared to risk potential embarrassment to itself.
"There must be an accompanying realization that whatever mechanisms are put in place, they must be so organized and structured that the campaign and the campaigners have unfettered operational autonomy", Mogae said.
He also advised that the campaign must enjoy adequate human and physical resources, as he maintained that irrespective of the possible political consequences, there will be no slackening of resolve.
According to him, any anti-corruption campaign that seeks to provide immunity to any group of people is bound to fail as it will lack public confidence and support which is essential to its success.
"This is an important recognition that the government cannot fight corruption alone but needs the active participation of ordinary citizens, the public sector, the private sector and the civil society. Corruption is a problem that affects us all; we are all its victims; therefore we all have to be involved in fighting against it", he stressed.
General Gowon in his opening remark, called on all Nigerians at home and in the Diaspora to stand on the platform of truth and justice, virtue and integrity. "Let us give our genuine support to an organization that deserves it, needs it, to enable it do its work successfully. State government support; please assist ANCOR for your own good. Let us imbibe the spirit of the occasion to make a solemn declaration, that we shall all support the project, the cause of ANCOR."
Chairman of EFCC, Mrs. Farida Waziri, in her own remarks, said the time is neither for lamentation nor despair. She urged the nation to be courageous and resilient to confront the evil of corruption which puts all Nigerians at great risk.
In her words, "Risk of insecurity, risk of abject poverty, disease and misery, risk of international odium and disrespect etc. The corrupt may have in the past capitalized on our patience as a people. They may have assumed that we are weak and cannot fight back. They are certainly mistaken. The impending anti-corruption revolution will consume them and their illicit wealth."
She said that the presence of General Gowon at the occasion signifies great hope. "He is here to demonstrate to the corrupt that the future of our country will not be left at their mercy. He is here as a sign that their days are numbered. Under his strong leadership at a relatively young age, we fought a civil war and emerged a strong united people. Those gains are being frittered away today. He remains a patriot and a national servant par excellence. We hope that a time will soon come when our leaders at all levels will imbibe his sterling leadership qualities so that he can take his deserved rest".
In their goodwill messages at the event, the governors of Gombe, Danjuma Goje, Borno, Alli Modu Sherrif, Kastina, Ibrahim Shema, Yobe , Ibrahim Geidam, the Senate President David Mark represented by Senator Tundun Wada and Chairman, House of Representatives Committee on Drugs, Narcotics and Financial Crimes, Hon. Rabe Nasir all called on Nigerians to heed the EFCC's call by joining the anti-corruption revolution train.
The event of Tuesday was preceded by a sensitization road walk campaign across major streets of Gombe on Monday.