BAT Benefits As Emerging Market Smokers Try Top Brands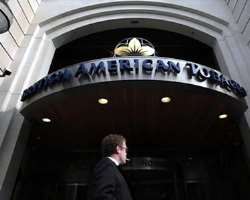 Growing demand for premium brand cigarettes in developing countries is helping British American Tobacco (BATS.L) to cope with falling sales in Western markets, higher taxes and a rise in black market trading.
The world's second-biggest cigarette maker, which generates almost 70 percent of its profits in emerging markets, met forecasts on Thursday with a 7 percent rise in 2012 adjusted earnings as higher profit margins made up for falling volumes.
"The key lever is the price mix," Kingsley Wheaton, Director of Corporate and Regulatory Affairs, told Reuters, pointing to a move by some consumers towards its premium brands such as Kent and Dunhill Fine Cut.
Tobacco firms are struggling with sluggish demand in western Europe and north America, but British American Tobacco (BAT) has fared better than most as it has the broadest global spread of the big cigarette makers.
INDUSTRY CHALLENGES
BAT, whose brands also include Lucky Strike and Pall Mall, sold 694 billion cigarettes in 2012, down 1.6 percent on 2011.
Sales were affected by growth in black market trade, driven by excise taxes on cigarettes, particularly in Brazil and Mexico, and instability in Egypt.
The black market, which BAT estimates accounts for around 12 percent of all global trade of cigarettes, has impacted other tobacco firms too.
Imperial Tobacco (IMT.L), whose brands include Davidoff and Gauloises Blondes, said in January its profit would be hit by the rise in black market cigarettes as cash-strapped smokers in parts of the world try to save money.
However, BAT reported a rise in adjusted earnings per share to 207.5 pence for last year, compared with a forecast of 206.6 pence, according to Thomson Reuters I/B/E/S estimates.
Margins rose 160 basis points to 37.4 percent and while reported revenues fell 1 percent, they were up 4 percent stripping out the adverse impact of foreign exchange moves.
BAT also said it would buy back 1.5 billion pounds ($2.3 billion) of shares in 2013, following a 1.25-billion-pound buyback last year.
Analysts at Jefferies said the margins were a big surprise, well ahead of targets and consensus estimates. The buyback was also positive, they added.
"We believe this (buyback) will be well received by the market and suggests a certain level of confidence behind the business looking into 2013," the brokers said.
"We expect the higher buyback, better operating performance and weaker sterling to drive low single-digit consensus EPS upgrades."
Shares in BAT, which have risen around 8 percent in 2013 to date, were up 0.3 percent at 3,426.5 pence at 1030 GMT.
HEALTH CONCERNS
Tobacco firms are also facing stricter rules on packaging and branding as governments seek to fight concerns over the long-term health costs of smoking. Tobacco kills up to half of its users, according to the World Health Organization.
Russia became the latest country to say it would ban smoking in public places this week, a move opposed by BAT and other tobacco firms.
Europe is planning larger health warnings on packets and a total ban on flavorings such as menthol, while Australia is forcing manufacturers to use drab-colored packaging with pictures of ill babies and diseased body parts.
Wheaton said it was too early to tell the effect the closely-watched experiment in Australia, which began in December, has had on sales.
"As far as we can tell, nothing has happened that is unduly different, but it's too early for numbers and percentages," he said.
($1 = 0.6608 British pounds)
REUTERS