Stop Oil Theft Now, NBA Tells Jonathan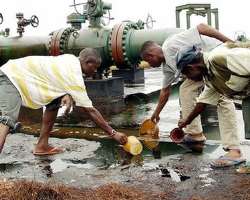 …Wants Ezu River Corpses Probed
SAN FRANCISCO, February 27, (THEWILL) – President Goodluck Jonathan has been called upon to stop the vandals stealing crude oil in the creeks and riverine areas of the country.

Making the call, Wednesday, was the Nigerian Bar Association (NBA) , which put the rough estimate of stolen oil between 2003 and 2008 in the country at N14 trillion.

NBA President, Chief Okey Wali, who made the call in Abuja, while briefing journalists on the outcome of the association's National Executive Committee meeting held in Makurdi, the Benue State capital, described oil theft as a serious drain on the nation's economy.

This came as NBA also threatened to sue the Economic and Financial Crimes Commission (EFCC) over the directive by the Special Control Unit on Money Laundering (SCUML) that lawyers should register with it.

The association declared the directive as unacceptable, describing it as a violation of regulation of the legal profession and the law on confidentiality.
While calling on Jonathan to put measures in place to reverse the growing trend of oil theft , Wali said in 2011 and 2012, the country lost $7 billion and $9billion respectively to oil theft.
Lamenting that the Federal Government had not taken the issue of safety of lives and properties seriously, NBA asked Jonathan to set up a high-powered presidential judicial commission of inquiry to investigate the floating corpses in Ezu River, Amansea/Awka, Anambra State, with a view to bringing the culprits to justice.
"NEC resolved that in view of the seriousness of the allegations of the possibility of the corpses being victims of extra-judicial killings, that a judicial commission of inquiry should be set up to look into the matter," Wali said.
According to him, the association also observed that security of lives and property of Nigerians should be of paramount importance to government and called upon the Federal Government to take the issue of security more seriously and to make every effort to address the menace of terrorism, kidnapping and assassinations.
The association also condemned the practice in some states where Caretaker Committees were set up to pilot the affairs of Local Governments, describing it as a flagrant breach of the relevant provisions of the Constitution.
NBA maintained that all the Chairmen in the 774 Local Government Areas in the country should be democratically elected and given financial autonomy as envisaged by the 1999 Constitution.