House Seeks Establishment of Earthquake Monitoring Stations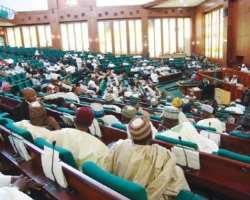 ABUJA, February 27, (THEWILL) – The House of Representatives, Wednesday, mandated its Committee on Environment and Emergency Preparedness to liaise with the Federal Ministry of Environment to facilitate the establishment of earthquake and tsunami monitoring stations in the country.
The committee is expected to report back to the House within four weeks.
The decision was taken after the adoption of a motion moved by Rep. Akpan Umoh ( PDP-Akwa Ibom) which was adopted without debate.
Udoh had explained that any undetected tsunami or earthquake with its attendant destruction on oil installations would crumble the economy as the country's economy depends mainly on petroleum activities.
He said climate change leading to recent unprecedented flood in the country was a pointer to the fact that Nigeria as a nation must be proactive in disaster and emergency preparedness.
Umoh said that seismic monitoring devices for early warning signals had already been installed in Cameroun sequel to explosion of Lake Nyos in 1984 and 1986.
He noted that Nigeria is intensively involved in extractive industry especially onshore/offshore and deep sea oil drilling as well as indiscriminate water borehole drilling.
The legislator said that the motion was essentially about disaster prevention.
Meanwhile, Speaker of the House of Representatives, Alhaji Aminu Tambuwal, has said that the House was expecting an amendment bill on the 2013 Appropriation Act from President Goodluck Jonathan.
Tambuwal said this while informing members that the President has signed the budget bill into law.
He said that the House would give the amendment bill expeditious attention when it receives it.
It would be recalled that the House on Feb. 26 after an executive session, resolved to meet with the Senate on the 2013 budget.