Emotional Pope Bids Farewell 'With Profound Serenity'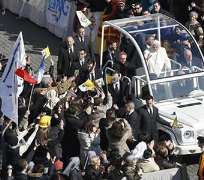 Pope Benedict bade an emotional farewell at his last general audience on Wednesday, saying he understood the gravity of his decision to become the first pontiff to resign in 700 years but he had done it for the good of the Church.
"I took this step in full awareness of its gravity and rarity but also with profound serenity of spirit," he told a packed crowd in Saint Peter's Square.
He said he was not "coming down from the cross" despite renouncing his office but would remain in the service of the church through prayer. He asked the faithful to pray for the cardinals and whoever they chose as his successor.
REUTERS