National Assembly Leadership Meet Over Budget Impasse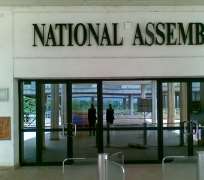 ABUJA, February 26, (THEWILL) – The leadership of the National Assembly is to meet, Wednesday, to interface and take a final decision on the refusal of President Goodluck Jonathan to sign the 2013 budget.
The House of Representatives, THEWILL gathered, is pushing to override the president's non-assent to the bill.
Lawmakers from both the Senate and the House had at various times threatened to override President Jonathan should he continue to withhold assent to the appropriation bill passed since December 20, 2012 and forwarded to him in January.
But the two chambers have not officially resolved to veto the bill. Wednesday's meeting is therefore expected to address this issue once and for all.
Ahead of the meeting, the House held a closed door session for about two hours, Tuesday, where a decision was taken to liaise with the leadership of the Senate so that the veto could be taken simultaneously.
Chairman of the House Committee on Media and Public Affairs, Hon. Zakari Mohammed (PDP, Kwara), who briefed the media after the executive session , said members had expressed displeasure with the refusal of president to sign the budget and decided that a decision must be taken now.
"Members spoke majorly about the 2013 budget and, just like other Nigerians, were disturbed about the non-assent to the budget up till now. Members took a lot of time to relay the feelings of their constituents," he said.
According to Mohammed, both the Speaker and chairman of the House Committee on Appropriation, Hon. John Enoh (PDP, Cross River), briefed the meeting on the outcome of the series of meetings held with the executive.
"After their briefings, we took a decision to meet with leadership of the Senate on the possibility of the National Assembly taking a decision on the refusal of Mr. President to sign the budget," he disclosed.
He explained that since the president has not signed the budget up till now and consequent upon their meeting, "we decided we have to do something because we have to move forward."
Section 58 (4) and (5) of the 1999 Constitution as amended empowers the legislature to override the President's assent after 30 days of not assenting to a bill passed by the Parliament and sent to him.