Abuja High Court Judge Flays Conflicting Reports On Oyerinde's Murder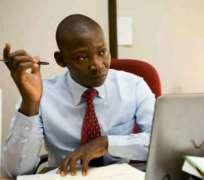 SAN FRANCISCO, February 25, (THEWILL) – Conflicting investigation reports of the police and the State Security Service (SSS) on the murder of Olaitan Oyerinde, the principal secretary to Edo State governor, Adams Oshiomhole, has been described as embarrassing.
Speaking, Monday, at a conference on Speeding Up Criminal Justice organised by the Department for International Department (DFID) and Prisoners Rehabilitation and Welfare Action (PRAWA), the Chief Judge of the Abuja High Court, Justice Lawal Gummi, who faulted the reports as embarrassing, said that there was lack of coordination in the criminal justice sector.
"In another breath, the recent case of the murder of Olaitan Oyerinde, the Principal Secretary to the Edo State governor, leaves us with a bad taste in the mouth. It was a bewildering case of one murder, two government agencies, and different culprits.
"The police and the SSS, the two security agencies investigating the murder, paraded two different sets of suspects, a development that has set off speculation that investigations into the murder was most likely bungled.
"While the Edo Police Command paraded some suspects, including a human rights activist, the SSS flaunted an entirely different set of suspects (which it labelled armed robbers) at its Abuja headquarters," he said, asking "Is this kind of embarrassing scenario possible if we had effective coordination between the police and the SSS?"
Gunmi said his recent visit to Kuje prison had shown that there was an ongoing dispute between the police and the office of the Director of Public Prosecution (DPP) over who had the authority for prosecuting certain types of cases.
He also pointed out that among agencies in the criminal justice system, there was suspicion and lack of coordination.
"No one has a complete record of the cases being prosecuted by the other," he lamented.
According to him, lack of coordination leads to corruption and inefficiency in the criminal justice system.
In his remark at the occasion, the Programme Manager, Justice for All Programme at DFID, Dr. Bob Arnot, said his organisation supported cross- fertilisation of ideas so that the criminal justice system could work better.
While pledging the continuous support of the DFID to the programme, he demanded for more commitment from stakeholders in the criminal justice system.
On her part, the Executive Director of PRAWA, Dr. Uju Agomoh, said that all stakeholders in the criminal justice system must work together otherwise, investigation and prosecution of cases would continue to suffer.
She said the investigative unit must work with prosecutory unit to make the criminal justice system work better even as she called for the tracking of witnesses to make sure that they come to court when they were required to give their testimony.