The 10 Most Expensive Cities in Nigeria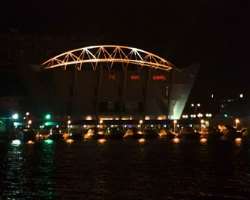 Picture of the Civic Centre in Lagos at night. Photograph by Grace Bernard, 2009.
The 10 Most Expensive Cities in Nigeria
The mega city of Lagos tops the list of the most expensive cities in Nigeria, because of the high cost of living in the commercial capital of the most populous country in Africa. Lagos is followed by Abuja, the Federal Capital Territory. and Port Harcourt, the oil rich capital of Rivers State.
What makes Lagos and the other capital cities expensive are the exorbitant rents for accommodation, overpriced real estate, expensive hotels and inflation caused by the daily influx of both local and international migrants and expatriates.
Lagos, the largest city in sub-Saharan Africa, can boast of several exotic beaches and five star hotels and ritzy night life charged by the hottest music stars like King Sunny Adé, Fela Kuti the first son of the legendary king of Afrobeat Fela Anikulapo Kuti, Lagbaja, the masked one and the racy new Hip-Hop, Rap and Hip life stars like Tuface Idibia, D'bange, MI, Face, Ruggedman and many other upcoming Turks of the hyperactive Nigerian music scene and of course Lagos is the home of Nollywood, the third largest movie industry in the world. The spate of kidnappings of both foreign and local oil workers in the volatile cities of the Niger Delta drove many of them to relocate to the safe haven of Lagos where majority of the diplomatic community prefer to stay. The residents are competitive in the rat race with lusts for the luxuries of ostentatious lifestyles copied from Western nations. The hotels charge more than even many five star hotels in New York, Paris and London and renting a condo or an apartment can cost $30, 000 or more a year and buying one can cost you over a million dollars in Ikoyi, Victoria Island and Lekki.
1. Lagos
2. Abuja
3. Port Harcourt
4. Warri
5. Kaduna
6. Asaba
7. Aba
8. Owerri
9. Umuahia
10. Enugu
Posted By Orikinla Osinachi. to Nigerians Report at 9/11/2009 02:47:00 AM