NNPC Not Taking $1.56bn Loan, Say Allison - Madueke, Yakubu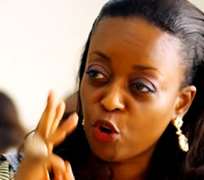 SAN FRANCISCO, February 25, (THEWILL) – Petroleum Resources Minister, Mrs. Diezani Alison-Madueke, and the Group Managing Director (GMD) of the Nigerian National Petroleum Corporation (NNPC), Mr. Andrew Yakubu, Monday, denied that NNPC was planning to borrow $1.56 billion.
The duo spoke during a session with members of the House of Representatives Joint Committee on Petroleum (downstream and upstream), Aids, Loans and Debt Management and Justice investigating the purported loan.
According to them, the NNPC is only planning to forward sale 15 bpd of crude oil to raise the money in question to offset outstanding trade bills.
In her testimony, Allison-Madueke had said that there was no iota of truth in the allegations that NNPC was processing a $1.56 billion loan facility, explaining that it was only a forward sale arrangement to raise the amount.
In his presentation, the GMD, Yakubu, explained that the arrangement was a forward sale structure that would enable the corporation to forward sale 15, 000 bpd of crude oil to raise the 1.56 billion dollars to liquidate outstanding trade bills.
Yakubu explained that the arrangement was based on a forward sale that allowed a future sale of agreed quantities of 15,000 bpd of crude oil to Special Purpose Vehicle (SPV) for a period of five years.
"Essentially, the forward sale structure will enable the corporation to settle the outstanding product import bills without violating the requirements of World Bank negative pledge," he said.
According to him, the sales arrangement was negotiated in consultation with the Federal Ministry of Finance, adding that the arrangement would guarantee future petroleum products supply to the domestic market.
He explained that the non-reimbursement by the Federal Government of the petroleum products price differential to NNPC, has led to accumulated and unpaid petroleum products invoices of about $3 .5 billion.
The GMD said because of pipeline vandalisation and other severe operational losses, the corporation had been unable to settle its obligations to petroleum products suppliers on time.
In his presentation, Chairman, Revenue Mobilisation, Allocation and Fiscal Commission (RMFAC), Mr. Elias Mbam, told the committee that the commission had no details of the terms and conditions of the proposed arrangement.
According to him, RMFAC has the constitutional responsibility to monitor accruals to, and disbursement of, revenue from the Federation Account.
Responding, chairman of the House Committee on Petroleum (Downstream) , Hon. Dakuku Peterside (PDP-Rivers), said the matter before the committee called for the passage of the Petroleum Industry Bill (PIB) as he stressed the need for transparency in carrying out government businesses.