GOV OBI DISHED OUT BRAND NEW NISSAB 16 SEATER TO CONVENT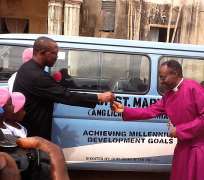 In continuation with his administration's effort to restore education in the State back to its lost glory, Governor Obi has presented a brand new Nissan 16 seater bus to Convent of Saint Mary, Diocese of Ihiala, Anglican Communion. The Governor said while presenting the bus during a visit to the school thatb the gesture was an appreciation of efforts of the Diocese in complementing government's efforts towards promoting functional and qualitative education in the State.
He commended the Bishop for his hard work and dedication in uplifting the Diocese and expressed satisfaction that government partnership with the Church is yielding the expected dividends.
With thanks, the Anglican Bishop of Ihiala, Right Reverend Raphael Okafor observed that the vehicle will help to promote academic activities in the school.He said further that Governor Obi had made a lot of impact in all sectors of the economy, particularly in promoting functional education by rebuilding and equipping schools and thanked him for encouraging the work of Missionaries in building better society. He prayed for a worthy successor who will emulate his commitment, integrity, and transparency.
Similarly the governor had issued a cheque of 3 million Naira to Abbot Girls Secondary School Ihiala for resuscitation of its collapsed borehole scheme, among other projects. He handed over the cheque after inspecting facilities in the school.
He promised that no effort will be spared to ensure that the school source ofwater supply was restored as quickly as possible to save the students from avoidable difficulties. He also assured that government will, in the next one week, provide the school with funds for a functional library as well ascommence on rebuilding some of the school's dilapidated structures.
Gov. Obi explained that his regular visits to schools enables him to evaluate true condition of facilities and challenges, and describes as unacceptable the high level of decay in most schools' infrastructure.
The Principal of the school, Lady Ada Anulimadu, as well as her students expressed gratitude to the Governor for his efforts. They noted that the Governor has been responsive to the needs and aspirations of the people while at the same time remained a man of his words, fulfilling every promise made.