MIMIKO: ANOTHER ERA OF FUNCTIONAL DEMOCRACY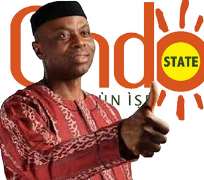 Without mincing words the re-election of Ondo State Governor, Dr. Olusegun Rahman Mimiko is a pointer to the fact that a performer stands the chance to go for a second term based on what he has achieved in his first term. That is what democracy, in its undiluted and uncorrupted form is meant to achieve and nothing more. In a functional democracy, the key word is performance as it first, determines one's choice for any position based on prior demonstration of competence. Apparently is the sole determinant for a second term.
The unflinching support, which the Mimiko administration enjoys, is also understandable because, from historical records, the South West remains the hotbed of political radicalism in Nigeria. The people of Ondo State, in particular, are a peculiar stock in the pack. It is about the only section of Nigeria's political geography where, away from cheap bread-and-butter politicking of most regions, the electorates are always too remarkably sophisticated to be lured into conservative idea in the guise of belonging to any mainstream politicking. They would rather stick to their guns once they are convinced that they are in safe hands than pander in the direction of some unsubstantiated phantom majority.
Republican and resoundingly egalitarian, their sense of triumph always knows no bounds whenever, in any election, they could vote in line with their conviction. They also want to be sure that the winner is not only competent and deserving, but, that he has not been gratuitously imposed on them by forces other than theirs.
Given remarkable proliferation of rural as well as urban infrastructure development like good, expanded and improved roads; the construction of modern markets in the nooks and crannies of the state in a manner that has opened the dark recesses of the communities to civilisation; the 'Abiye' ante-natal healthcare delivery system, that has brought uneding reliefs to women in the State, the Mimiko administration seems determined to ensure that Ondo State remains a primus inter pares in Nigeria's political space for a long time to come.
Impressively, Ondo State under Governor Mimiko has since become the people's political slogan, is 'Ise loogun ise', a Yoruba phrase which means and underscores the fact that work, hard work and nothing but hard work, is, or ought to be the only legitimate antidote to poverty in an ideal society. Borrowing a leaf from the the late sage, Chief Obafemi Awolowo, who, in the First Republic, created farm settlements for farmers to locate close to their industry, Mimiko has built massive agriculture villages in all the eighteen Local Government Areas of the State, with the one at Ore, along Sagamu-Benin Expressway.
Amazingly, what other way to advertise a Labour Party living its name In positive direction? In the South West, today, only Ondo State pays a mini-mum wage of N22,000. Others trail behind with N18,000 or far less.
On account of this labour-friendly policy, Nigeria's Organised Labour, through its arrow head, the Niger-ian Labour Congress, (NLC), has thrown its weight, against all odds, behind Mimiko's ambition for a second term in office.
Mimiko's democratic ideal is subsumed in his single-minded commitment to the social contract between the electorate and the elected. Every other relationship, be it with political godfathers, party patrons, politicians or cronies, is secondary. The recent idea of regional integration had been mooted by monolithic tendencies in the South West.
It was widely applauded as the only way for Nigeria to be free from the stranglehold of unitary system currently masquerading as federalism. But while school fees in tertiary institutions in neighbouring states range from N250,000 to N300,000, Ondo State owned Adekunle Ajasin University charges just N25,000 per student indigenous to the state. And while the Nigerian Council of Legal Education charges N250,000 as school fees, law students from Ondo State get N50,000 relief from their state government.
At secondary school level, the Mimiko administration has provided luxury buses to offer free transport services to and from school each day of the week! Model primary schools that are tailored towards 21st Century standards as obtained in advanced countries were also built in each of the eighteen LGAs as exemplars to what Nigerian educational system should strive to attain.
However, in the area of technology, Mimiko has shopped for some of the best brains of Ondo State extraction from American universities and institutes of technology to help situate the state on the world map of information super highway in a global village. Foundations have been laid for technology villages, spread across the state. In the turn of the Century, Ondo State might take the lead in Africa, spreading the gospel of bio-fuel and renewable energy across the continent in a manner that would reconcile mankind to his environment in a shortest possible time.
For the ordinary man travelling by public transport, Mimiko's model motor park is a sight to behold. Boarding a vehicle in an unfriendly weather is no longer an issue. Parks are now designed like airports with balconies where travellers are shielded and protected, come rain or shine. On this score, members of the National Union of Road Transport Workers, (NUTRW), Road Transport Em-ployers Association of Nigeria, (RTEAN), align with Governor Mimiko's vision for the state.
Apart from being conferred with the 'Man of the Year Award' on more than one occasion by esteemed media organisations both locally and internationally; the UN Human Settlements Programme had, in its 6th World Urban Forum in Naples, Italy, entered Mimiko's name on the 2012 UN-HABITAT SCROLL OF HONOUR. The citation says: "Many commendable candidates were considered for this award. It was our unanimous opinion that you should receive the award for your drive to reduce urban poverty and make Ondo State the best run in your country". On account of these sterling records and many more, Dr. Olusegun Rahman Mimiko has unequivocally remain an enviable asset to the great and principled people of Ondo State. May God bless and prosper Ondo State even in the continuation of another 4years of good governance and socio-economic exhibitions.
Written By EMMANUEL AJIBULU

Disclaimer:

"The views/contents expressed in this article are the sole responsibility of

thewillnigeria.com

and do not necessarily reflect those of The Nigerian Voice. The Nigerian Voice will not be responsible or liable for any inaccurate or incorrect statements contained in this article."
Articles by thewillnigeria.com