IGP Mulls Offering Reward For Maina's Arrest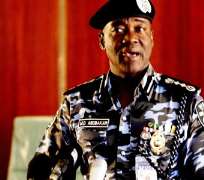 ... Senate Seeks INTERPOL's assistance
ABUJA, February 20, (THEWILL) - The Inspector General of Police (IGP), Mohammed Abubakar, Wednesday, said he was prepared to offer monetary reward for any information on the fleeing chairman of the Pension Reform Task Team (PRTT), Abdulrasheed Maina, if that would help in apprehending him.
He stated this while appearing before the Senate Committee on Police Affairs, whose members pointedly told him get Maina by all means and mandated him also to engage the services of the Internal Police Organisation (INTERPOL) to help him track Maina down wherever he may be hiding abroad.
The IGP, who had told the Senators that he was handicapped in placing a handsome reward for whoever apprehends Maina because of the delay in the signing of the 2013 budget, however assured that the Police Force would deploy every available means to arrest him.
Giving a timeline of the manhunt for Maina in compliance with Senate's directive contained in a warrant of arrest, the IGP told the Senators that he withdrew the police security escorts attached to Maina immediately the Senate issued the warrant for his arrest and since then, the man has absconded and has not been seen.
He, however, explained that the police were yet to scan the immigration to determine which country Maina fled to, because of all the processes involved. Nonetheless, he said the police would soon declare him wanted through the involvement of INTERPOL.
According to Abubakar, the police team trailing Maina had extended its dragnet to Biu, Borno State; Maina's home town on January 31 in search of the fleeing man.
"At about the same day, the team arrived the family house of Alhaji Maina in the heart of the town. Two elderly persons in the compound informed the team that the subject (Maina) had not visited them for long. Further inquiry revealed that the subject has a home in Kaduna and the team immediately proceeded to Kaduna on February 2 in search of him, but with no success. Having established that subject was in hiding, the Force vide letter No. CZ: 5300/FPRD/FHQ/ABJ/V.4 of February 1, declared Maina wanted for failure to appear before the National Assembly", he explained.
The IGP assured the Senators that with every sense of responsibility, the importance of arresting Maina to face the Senate and answer vital questions is not lost on the Force and the team of detectives involved in other discreet arrangements towards achieving that purpose.
It could be recalled that the IGP was summoned by the Senate to come and explain his failure to execute the arrest warrant on Maina.