Wall Street Slips After Rally, Energy Shares Fall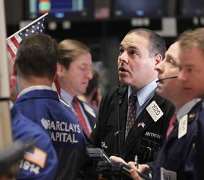 U.S. stocks fell on Wednesday, pressured by a drop in energy shares as investors found few reasons to buy equities following a rally that has held major indexes near five-year highs for around three weeks.
Equities have been strong recently, to the point that the day's modest decline was the largest for the S&P 500 since February 4. The index has jumped about 7 percent so far this year and is on track for its eighth straight week of gains.
However, many of those weekly gains have been slight, with equities trading within a narrow range for the past few weeks, suggesting valuations may be stretched at current levels.
"The market seems very tired and listless, and investors are prone to take profits now as they wait for the music to stop," said Matt McCormick, money manager at Bahl & Gaynor in Cincinnati.
Energy companies were among the weakest, hurt by disappointing results and a 2.2 percent drop in crude oil prices. The Energy Select Sector SPDR (XLE.P) fell 0.9 percent, though it remains up 10.1 percent for the year.
Newfield Exploration (NFX.N) tumbled 7.7 percent to $25.20 while Devon Energy Corp (DVN.N) dropped 4 percent to $58.17. Both companies posted fourth-quarter losses, with Devon hurt as it wrote down the value of its assets by $896 million because of weak natural gas prices.
Housing shares also declined, pressured by weaker-than-expected results at Toll Brothers Inc (TOL.N) and a drop in groundbreaking to build new U.S. homes, also known as housing starts, in January.
Toll Brothers' stock fell 5.4 percent to $34.91, but is up about 8 percent so far this year, building on a jump of nearly 60 percent in 2012. The Dow Jones U.S. Home Construction index .DJUSHB lost 4 percent.
"Valuations appear a bit high at these levels, and if I was in a name that had seen a huge run, I'd want to take some chips off the table," said McCormick, who helps oversee about $8.2 billion in assets.
The Dow Jones industrial average .DJI was down 12.13 points, or 0.09 percent, at 14,023.54. The Standard & Poor's 500 Index .SPX was down 6.20 points, or 0.40 percent, at 1,524.74. The Nasdaq Composite Index .IXIC was down 19.10 points, or 0.59 percent, at 3,194.49.
The Dow's losses were limited by Boeing Co (BA.N), up 1.4 percent at $75.67 after a source told Reuters that the company had found a way to fix battery problems on its grounded 787 Dreamliner jets. Concerns over that line have weighed on Boeing recently, contributing to a 2 percent drop in the stock's price in January.
Investors are also waiting for the minutes from the Federal Open Market Committee's January meeting due at 2 p.m. (1900 GMT) for clues to the interest-rate outlook, as well as for any indication as to how long the Fed will keep buying bonds each month to bolster the U.S. economy and employment.
In other data released on Wednesday, permits for future home building rose in January to a 4 1/2-year high while a separate report showed wholesale prices rose last month for the first time in four months. The U.S. Producer Price Index rose in January for the first time in four months.
Shares of OfficeMax Inc (OMX.N) fell 4.2 percent to $12.45 while Office Depot (ODP.N) slid 14.3 percent to $4.30 as the companies announced a $1.2 billion merger agreement. The shares had surged in Tuesday's session after a source said a deal would be announced. Rival Staples Inc (SPLS.O) fell 7.6 percent to $13.53 and ranked as one of the S&P 500's biggest decliners.
SodaStream (SODA.O) dropped 3.7 percent to $50.50 after the seller of home carbonated drink maker machines posted fourth-quarter earnings and provided a 2013 outlook.
According to Thomson Reuters data through Tuesday morning, of the 405 companies in the S&P 500 that have reported results so far, 71 percent have exceeded analysts' expectations, compared with a 62 percent average since 1994 and 65 percent over the past four quarters.
Fourth-quarter earnings for S&P 500 companies are estimated to have risen 5.7 percent, according to the data, exceeding a forecast for a 1.9 percent gain at the start of the earnings season.
REUTERS