Banker Bags 9 Years Imprisonment For Stealing N35m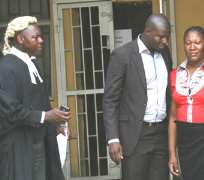 SAN FRANCISCO, February 20, (THEWILL) - Justice Adeniyi Onigbanjo of the Lagos High Court sitting in Ikeja, on February 19, 2013, sentenced a former banker, Vera Ogbonna Akanni to nine(9) years imprisonment for defrauding her bank customers various sums of money to the tune of N35,402,440.75( Thirty-Five Million, Four Hundred and Two Thousand, Four Hundred and Forty Naira, Seventy Five kobo only). The convict was prosecuted on an eight (8) count charge bordering on obtaining money by false pretence and stealing by fraudulent conversion.
Prior to her sentencing, defence counsel, Yinka Oyeniji, drew the attention of the court to an affidavit of means placed before the court on February 17, 2013. Besides, Justice Onigbanjo asked the prosecution counsel, Oluwatoyin Owodunni, if the convict had any previous records of conviction. Owodunni confirmed to the court that the convict did not have any such record. However, the prosecution counsel further addressed the court on the convict's sentencing, saying that the offence for which she was tried attracts a punishment of between seven (7) and twenty (20) years imprisonment.
"My lord, this is money entrusted to the convict as a banker and an account officer. Her criminal conduct is not only a breach of trust but a heinous crime. This money belongs to innocent and unsuspecting members of the public", Owodunni submitted. He, therefore, prayed the court that the convict be made to face the full wrath of the law.
Justice Onigbanjo consequently sentenced the convict to 7(seven) years imprisonment on two of the counts and 2 (two) years imprisonment on two other counts effective from December 2, 2009 when she was first arrested. The sentence is to run concurrently.
Also, Justice Onigbanjo ordered the convict to make full restitution of the stolen money to the owners.