FG Seeks Best Model, Alternatives For Water Sector Reform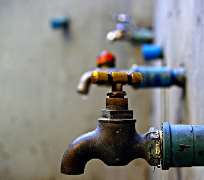 SAN FRANCISCO, February 19, (THEWILL) - Apparently set to find a way out of the funding challenges facing the realisation of its goals and objectives for the water sector in the country, the Federal Government may have opted for the best model and alternatives as a way of reforming the sector.
Disclosing this, Tuesday, was Vice President Muhammad Namadi Sambo while speaking at the close of the two-day Presidential Summit on Water held at the State House, Abuja.
When the summit opened on Monday, President Goodluck Jonathan had put the amount needed to fix the water and sanitation needs of the country annually at a whooping sum of N350 billion.
But maintaining that the reform that the administration has in mind will be much more comprehensive than what obtains now in view of climate change, expanding urban areas and increase in population, Sambo said "the reform will ensure the proper resilience and adaptability of our water resources."
The vice president, who called for an enduring partnership between all tiers of government in order to bring to fruition the unfolding policy of government in the sector, affirmed that the Federal Government needs to put in place "the right legal, regulatory and institutional framework to allow robust participation of the private sector in water economy."
While soliciting for support in getting the much-needed funding to "engender the most rewarding value-for-money in water project", Sambo called on the private sector, which he described as having brought 'great versatility' and 'best results in the shortest possible time', to partner with the Federal Government in the water sector as they have done in other sectors.
He however assured that "The Federal Government will continue to upscale its investment in this very important sectors," in order to ensure that the resources available to them are managed in a way that "favours the maintenance of the expected qualities and standards in potable water supply and water tariffs."
Sambo said the Transformation Agenda of the Goodluck Jonathan Administration which is directed at 're-focusing, re-engineering and re-equipping' the economy has gone far with the guide of the Vision 20:2020 policy thrust resulting in "progress in the power, transport, road and housing construction and aviation, agriculture, health, education as well as ICT and telecommunications sectors."
According to Sambo, "Today, our economy continues to grow at about 7 percent with a much more balanced outlook," just as "our international economic ratings are upbeat while investment inflow in the past few months has shown an unprecedented upward swing."