Bauchi Kidnap: SETRACO Moves Foreign Workers To Abuja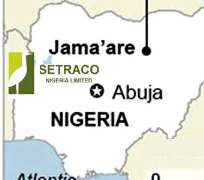 SAN FRANCISCO, February 18, (THEWILL) - SETRACO, the Lebanese construction firm, where eight foreign workers were kidnapped by unknown gunmen in Jamare, Bauchi State, on Sunday, has evacuated its remaining expatriate workers from the area, moving them to Abuja.
Unknown gunmen had stormed Setraco camp in Jamare, late Sunday, killing a security guard and abducting eight expatriates, including five Lebanese, an Italian, a Briton and a Greek.
The evacuation of the remaining foreign workers came, Monday, even as the whereabouts of the kidnapped workers remain unknown.
Spokesman for the company, Abu Malik, who confirmed the evacuation of all the foreign workers from Bauchi, said they had been moved to Abuja temporarily. Malik also said the company had suspended its activities in the area temporarily for security reasons, stressing that no contact had been established with the kidnappers yet.
Meanwhile, the Bauchi State Government has condemned in strong terms the attack on the camp, the killing of a security guard and the abduction of the foreign nationals by yet-to-be identified gunmen. The condemnation came as the Bauchi State Police Commissioner, Mohammed Ladan, maintained that investigation into the attack was still ongoing.
In its condemnation, the state government, in a statement issued by the Chief Press Secretary to the state governor, Ishola Michael Adeyemi, described the act which also included the burning down of a Police station and forceful attempt to enter the prisons, as outrageous, criminal and barbaric.
The State Government however assured that it will do all within its powers, in conjunction with the security agencies , to ensure the safe return of the kidnapped victims and bring the perpetrators of the dastardly act to justice in accordance with the relevant laws of the country.
It called on law abiding citizens and residents of the state to go about their activities without any fear of any molestation, saying the state government is committed to the protection of lives and properties of all law abiding citizens.